Eagle Butte's cross country team setting the bar high this fall
Posted on September 3, 2019 by 40 Mile Commentator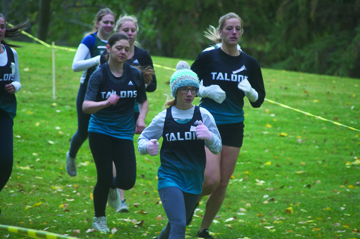 Commentator/Courier File Photo Grade 12 Eagle Butte Talon Kelsey Hamill leads her group around the opening corner during the 2018 Talons invitational
Justin Seward
Commentator/Courier
Members of the Eagle Butte High School cross country team were back on the Echo Dale Regional Park trail training last week in preparation for what will be a busy season.
The team will chase its 15th 3A South Zone title in the last 16 years as hosts of the Oct. 9 event. The black and teal will also host provincials the following week.
"We're allowed to start on Aug. 16. That's the rules," said coach Darryl Smith on the start of training sessions. "It's an opportunity to let the kids run. It's good for them to run with other kids and with it being a provincial year, it's a pretty big deal.
"Today (Aug. 20), we did a speed workout and we did some Frisbee rugby after and the kids were laughing and having a good time. It's a little team bonding but also gives them an opportunity to get out and push themselves."
Smith says its a chance to see where the runners are at as that is important to him as the coach.
"It's going to be really busy," said Smith.
"We actually have every weekend full and Oct. 19 (provincials at Echo Dale). I've encouraged the kids to the Parkrun this weekend. Hopefully if they run with me, they can run that all the time."
Some of the Talon runners will meet up with city runners now that the season is underway.
"Every Wednesday we're going to meet up with some kids from the city and we're going to run the course together," said Smith.
"For me it's not about just Eagle Butte. I'm pretty close with Glen Mori at Hat High and we encourage each other and make sure our kids have the best shot at provincials. I don't care where you're from, if you want to come and run with us, you're absolutely (welcome) to."
Smith says the composition of the team will be a mix of youth and experienced runners.
"We do have some kids with talent and veteran presence as far as being able to be role models," said Smith.
"We had some kids who had great success last year… We have some really good runners but there might be some kids that make rep teams and if they do, I hope they do really well."
He realizes that it will be a battle to take the South Zone again because there will be great competition from LCI as well as Cardston.
"For us it's about creating the team dynamic and getting numbers and then getting kids better than they were last year," said Smith.
"It's going to be tough. (In) provincials, we'd like to come back to top three. Our zone is very talented when it comes to runners."
Smith says the advantage for hosting zones and provincials is it's home for the team.
"We do mental training," he said. "I just talked to the kids that came tonight about you can go home and memorize the course."
Provincials are on Oct. 19 at Echo Dale and if anyone is interested in volunteering you can contact Smith at the school (403) 528-1996. Zones will be on Oct. 9 and volunteers are needed for that as well.
Some of the bigger races such as the ones in Wetaskiwin on Sept. 21, the Talons Invitational on Sept. 28 before the zone and provincial meets in October will bound to help the team on their path to the top of the heap at the end of the season.