Prairie Rose School Division stable despite uncertainty
Posted on September 3, 2019 by 40 Mile Commentator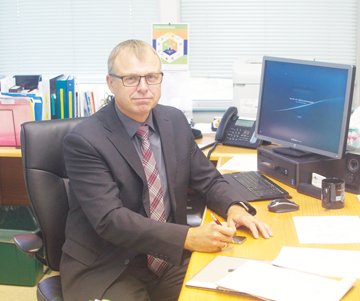 Photo by Justin Seward PRSD superintendent Roger Clarke confirmed that he along with Ryan Boser will be sitting on the transportation board component of the funding frameworks committees.
By Justin Seward
Commentator/Courier
Prairie Rose School Division (PRSD) began another school year today and despite some uncertainty with the provincial budget, administrators are feeling good about the upcoming semester
PRSD superintendent Roger Clarke says he's never been through something like this before in his 17 years at a school district central office.
"No never seen a year start without a budget," said Clarke.
"Alberta Education has been forthright and said go about making the same assumptions you would've made otherwise. The only way you can plan that is to be a little conservative but at the same time expect that you're going to be funded.
He hopes they won't be left with too many surprises but if the school division does then staff will have to be prepared to manage those.
A basic grant for students Clarke anticipates will not be not be touched at this time of the year because teachers and classroom supports are in place.
"Could we see some different funding pieces for a nutrition program that's been going around the province? We could see that funding disappear. We have to be prepared for that," said Clarke.
"When we see funding pieces being removed, it's usually those kinds of funding pieces that don't necessarily touch the classrooms deeply. Of course we would still lose those dollars and the ability to provide those programs that we diligently built."
Other funding includes classroom improvements that came through the negotiation process.
"(If) you remember the two rounds of negotiations ago, that we had got something called a CIF (Classroom Improvement Funding) and (in) its last round of negotiations, it remained," said Clarke.
"The parameters around it changed, but it was there, and for us that is $473,000. If it doesn't exist, OK that's a sizable (cut). We do have some reserves and so we're able to mitigate and balance something without having the cuts go too deep."
If these sorts of cuts were to happen, PRSD would have to look to the schools and look also to see how business is done in transportation, technology and governance with trustee meetings as well as operating the system, Clarke added.
"Unless we get an alarming budget, which I don't anticipate, then we'll be able to manage it," he said.
PRSD still has its challenges even without the budget uncertainty.
"When I think about rural school divisions, many of us are challenged with what we call declining enrollments," said Clarke.
" It's not as if they don't like their program or don't like their school or don't like their teachers, they're just simply not there. We're challenged with that."
PRSD had an enrollment decline of 80 kids last year, added Clarke.
Clarke says this year will be at 16.5 full time equivalent students (kindergarten is half time).
Different program options elsewhere are factoring into the less students, he added.
Programming that might intrigue a students interest in the future could be the Eagle Butte-based flight academy in partnership with Super T Aviation which will have 10 students in its first year and upon completion will give students their private pilots license. High school students can also take advantage of the entrepreneurial program at Eagle Butte in partnership with Medicine Hat College.
Hockey enthusiast can enroll in the Willie Desjardins South Alberta Hockey Academy as well.
Additionally there is the equestrian program at Irvine School which has completed two years and has expanded into a club.
"If we can keep them there and build programming that is enticing then they are going to stay in Prairie Rose," he said.
"… That brings a lot of excitement to what we're doing in terms of trying to continue to build schools that parents see adding value to their kids. There's no doubt we add value from an academic perspective. Our schools and our students perform by in large really well."
The Prairie Mennonite Alternative School, which is the former Redcliff Mennonite Alternative Program (RMAP), will begin in the old St. Thomas D'Aquin School in Medicine Hat. The school is available for all Mennonite students.