Redcliff library hosting writing workshop fundraisers
Posted on September 3, 2019 by 40 Mile Commentator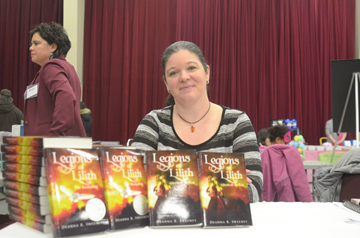 Redcliff author Deanna Sweeney will be hosting a writing workshop fundraiser on Sept. 10 and 17 with all proceeds going back into the Redcliff library.
By Jeremy Appel
Alberta Newspaper Group
The Redcliff Library is hosting a series of two writing workshops throughout September to raise funds in anticipation of cuts from the provincial government.
They're taking place Sept. 10 and 17, and will be hosted by local author Deanna Sweeney, who's written a series of paranormal novels.
The first workshop will focus more on the mechanics of writing, while the second looks towards getting your work published, either online or through a traditional publisher.
Library manager Tracy Weinrauch says the event was conceived when the library hosted a talk by some local authors earlier this year.
Sweeney, who was in attendance, asked around if there was interest, said Weinrauch.
"She offered this workshop and there were several people who were interested, so we thought, 'Why not? We'll go ahead with it,'" she said.
"With the funding in question right now from the provincial government, we are looking for any fundraisers and any donations people are willing to put forward."
Sweeney says she anticipates raising about $300 for the library.
"We're kind of using it as a benchmark to feel out if there's an appetite for this sort of thing in the area, because if there is … I'm willing to volunteer my time anytime they ask," she said.
Each workshop is scheduled for two hours and costs $10 per person per session. Space is limited to 15 people, so those interested should purchase their tickets sooner than later.
More information can be found on the Redcliff Library webpage.