Willie Desjardins South Alberta Hockey Academy learned a lot in the first year
Posted on September 3, 2019 by 40 Mile Commentator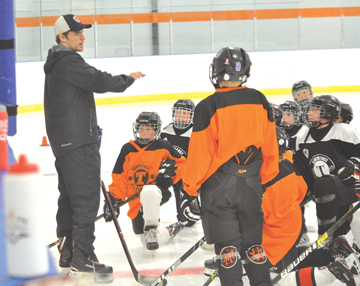 Commentator/Courier Photo by Justin Seward Willie Desjardins South Alberta Hockey academy instructor Brayden Desjardins ran drills during the South East Athletic Club fall (SEAC) development and conditioning camp at the Hockey Hounds Arena a couple weeks ago.
Justin Seward
Commentator/Courier
Over 60 players from the Prairie Rose School Division's Willie Desjardins South Alberta Hockey Academy showed a lot of upside throughout the first year of the academy.
The coaches were ecstatic on the progress the kids made during their on-ice course.
"I thought it finished really well," said Brayden Desjardins, on-ice instructor for academy and son of Medicine Hat Tigers head coach and academy founder Willie.
"At the start we didn't really know what we're going to have. It was almost a little bit rushed. But towards the end we got a real good feeling of what was happening out there. We put a block down that we can really build on."
Desjardins said the coaches were really able to figure out how to set out a skills foundation for the players and help them identify what kind of player they are.
"I thought we did a real good job of letting them work on individual skills that they don't necessarily get in practice or coaches maybe don't have the time for," he said.
Desjardins had been out of coaching for a little while and only knew a few players from coaching in the Medicine Hat Minor Hockey system.
"Hockey is a pretty universal language," he said.
"For me it was getting a relationship with each player and once I had a relationship with them, it was easy to go from there. Towards the end it was hard to let them go a little bit. I felt we were finally getting somewhere towards the end. I'm really excited for the next year. I think we can do some real special things."
The mix of players from the elite hockey level in the South Eastern Athletic Club (SEAC) system in Medicine Hat and others who played at the recreational level in Irvine and Redcliff paid dividends throughout the year.
"I thought some of the older guys took to the younger ones really well," he said.
"You had the leading scorer on the bantam AAA, Tyler Broesky, he was out there with Grade 6 girls (players). He jived with them really well. He was a really good mentor to them. He made them feel a part of it and that's all you can ask. When you have players like that are out there doing those things for the younger kids, it really helps get those a little more excited to be on."
He also noted Bow Island goalie Bodee Weiss and Austin Derzaph, who also played on that bantam AAA team, did well in the Irvine academy, while the Eagle Butte academy had a lot of players from the midget 15s SEAC team where the ice times felt more like a brotherhood.
"Everybody pushed each other. I really liked the culture we (were)setting last year," said Desjardins.
"Hopefully it continues over to this year."
The coaching staff does not expect a lot of change heading into year two as they know what to expect.
"I think it lets us build on from last year and really make sure players know who they are and really give them time to enhance their skills," said Desjardins.
Darren MacMillan oversaw the off-ice components of the academy and with a partnership with Global Sport Academy Group, the players were able to have access to materials that enhanced their leadership skills.
Now in the year ahead the focus will be to increase the students' knowledge on sports psychology and mental components of the game.
"Things like resiliency, mindfulness are definitely going to be significant themes this year," said MacMillan.
Another new component will be working with a statistician where both on and off ice data will be collected to be a part of a research project.
"The idea is how we can best motivate our students not just hockey, but in areas of their life," he said.
The hockey academy added Oyen for the upcoming year, bringing the total players close to 90.