Irvine Minor Hockey embraced hosting the Tigers
Posted on September 11, 2019 by 40 Mile Commentator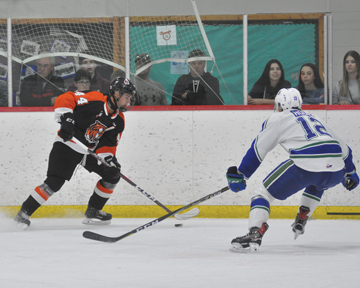 Commentator Courier Photo by Justin Seward Medicine Hat Tigers rookie #44 Cole Sillinger looks to chip the puck by Swift Broncos' Eric Houk during an exhibition game at the Irvine Sports Complex on Sept. 4, 2019.
By Justin Seward
Commentator/Courier
While it might not have been the outcome local Medicine Hat Tigers fans may have hoped for on Sept. 4 at Irvine Sports Complex, it was still a win in the Irvine Minor Hockey Association's books to host the Western Hockey League club for the second year in a row to open up the exhibition campaign.
Although the Tigers were ousted by the Swift Current Broncos 4-2, the packed barn still enjoyed seeing that caliber of hockey come to the community.
"It brings a lot of excitement just gearing up for hockey season," said minor hockey president Sheridan Siewert.
"The complex staff does a lot of work to prepare for the game. We have a ton of volunteers who help put this on. It's a lot of work but we find it's worth it. It's a good night out and especially seeing the kids in minor hockey getting to walk around and see these WHL kids, they look up to them."
Siewert says the event acted as a fundraiser for the association too.
"Number one, we use it as a fundraiser for our association. We put every dime we make back into minor hockey through this event. It gives our local fans some exposure to the WHL game," he said.
Siewert says ticket sales were good and estimated there were over 300 fans.
"Last year we had a weekend game, which the numbers were up because of that. It is the first week back at school, on a Wednesday night. We still did get support from the local community and Medicine Hat Tigers fans."
Tigers head coach Willie Desjardins felt it was important for the club to play in the surrounding communities around the Gas City.
"Irvine's a great place," said Desjardins.
"This is a great building. I think they've worked hard for the community to have it here and I thought they did an outstanding job putting it on. I think whenever you can get into these areas it's great because they love their hockey."
The hope is to make a Tigers exhibition an annual event.