Running track project short $25K on fundraising goal
Posted on September 11, 2019 by 40 Mile Commentator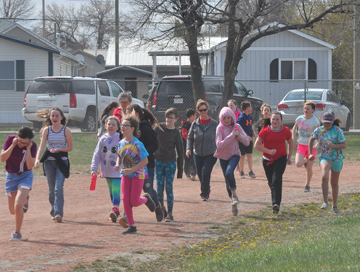 Commentator/Courier File Photo Local students ran a lap around the Bow Community Running Track during a Walk-a-thon back in May to raise funds for the track resurfacing project. The project is $25,000 short of its $200,000 fundraising goal to fully complete the detailed work that needs to be done.
Commentator/Courier
While a majority of the Bow Island Community Running Track resurfacing project between Senator Gershaw School and Bow Island Elementary was completed back in July, the project is still short $25,000 of its $200,000 fundraising goal.
"There are some items that still need to be completed such as painting of lines and landscaping around the running track," said Scott Angle, principal of Senator Gershaw School and running track committee member.
"As a committee, we hope more funds will come forward to complete aspects of the running track and completely finish off the project."
Angle says the running track has been well used by the community throughout the summer.
"(It is)truly been a worthwhile endeavor for our community," he said.
There is no deadline for the rest of the fundraising efforts and there are a number avenues the committee is working on to secure the rest of the finances, he added.