Annual crafts garage sale sees many people walk through the doors
Posted on September 17, 2019 by 40 Mile Commentator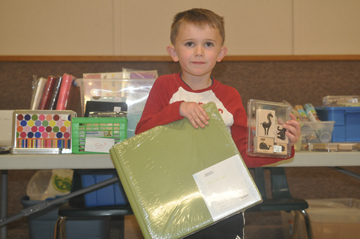 Five-year-old Liam Carter helped sell scrapbooking items such as albums and stamps at the event.
Justin Seward
Commentator/Courier
The fifth annual Clean out your Craft Room Garage Sale on Saturday at the Bow Island Multiplex saw many crafting enthusiasts come from near and far to add various arts supplies to their collection.
Second year organizer Stacey Barrows anticipated there to be between 60-80 people attend the garage sale.
"We don't open the doors until 10 a.m.," said Barrows.
"I had between 25-30 people at the door waiting for 10 a.m., so they could be the first to see the good stuff. It was really busy right up until noon and now it kind goes in waves, where you'll get lots and then it'll be quiet for a little bit."
Barrows says there were 28 tables set up this year and she had room for 31 booths.
"I was sold out until a week up to the event then I had a few cancellations," she said.
"We usually get people from Medicine Hat, Taber, Lethbridge, Bow Island. Same with the customers. I try to post it to every buy and sell or crafting website on (every) Facebook group I can find and have the vendors put out posters when they can in their communities."
She had noticed the popular items were from scrapbooking tables early on in the day.
"It kind of varies," she said.
"Last year we had a variety of everything. We a lot of fabric tables with a lot of quilting supplies. I think for the most part, I'm seeing a lot scrapbooking."
Yarn was also going out the door quickly she added.
"Considering we changed the date from March to September, it's gone very well," she said.