PRSD superintendent talks about funding framework committees
Posted on September 17, 2019 by 40 Mile Commentator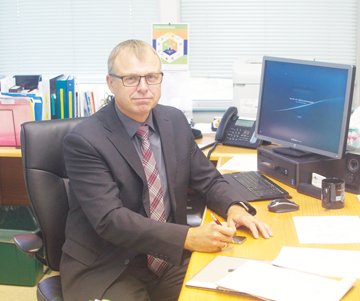 Photo by Justin Seward PRSD superintendent Roger Clarke confirmed that he along with Ryan Boser will be sitting on the transportation board component of the funding frameworks committees.
By Justin Seward
Commentator/Courier
Prairie Rose School Division (PRSD) opened up its first board meeting of the year on Sept. 11 talking about funding framework committees.
PRSD superintendent Roger Clarke told the trustees that there has been interesting conversation around the province about Alberta Education doing a review of their funding model.
It was at the CASS conference in the summer that it was not public knowledge that a review was going to happen, but now the information is.
"It is my understanding that there is going to be further consultation with the association such as ASBA (Alberta School Boards Association and ACSTA (Alberta Catholic School Trustees' Association) and ASCA (Alberta School Council's Association) as they move into the fall," said Clarke.
"What is happening now is you look at the Pembine Hills School Board letter that was written to ASBA board of directors to talk about our concern over the government moving forward in a sense of doing a process that wasn't involving trustees to the degree that trustees would like to be involved."
Clarke believed that trustees will be involved in the process now.
He wanted to make the board aware that there will be a funding review of the province this fall and a report will be brought to cabinet as early as January.
That funding framework could take effect the next school year.
The committees will include high school funding, inclusion, transportation, learning support, distributed learning and efficiencies.
"We're happy to announce to you after we had the ability to have conversations with our board chair here that Ryan (secretary treasurer Boser) and I put our name into be representatives on the transportation committee," said Clarke.
" The idea is look at transportation and how it's funded currently, what are some ideas that are questioned about in terms of how transportation can be funded moving forward. Ryan and I met for a number of hours going through our current funding framework and did some preliminary budgets."
Clarke added he and Boser discussed ways the current framework doesn't work with PRSD.
"We're really happy to be able to say we have a representative on that provincial committee that can bring our perspective as a small rural school division into the lime light," said Clarke.