'Some big things happening at the hall:' Baden-Powell Centre renovations coming soon
Posted on September 24, 2019 by 40 Mile Commentator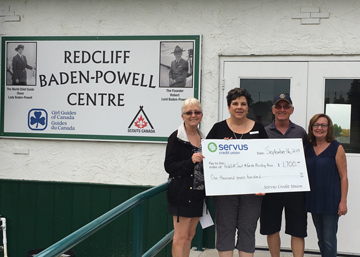 Photo Submitted by Kim Donais The Redcliff Scout and Guide Building Association accepting a donation of $1700 from Servus Credit Union Redcliff Branch to help us with the replacement of windows and lighting at the Baden-Powell Centre in Redcliff.
By Jeremy Appel
Alberta Newspaper Group
Renovations at the Baden-Powell Centre should be getting underway in the next couple months, according to the director of the Redcliff Scout and Guide Building Association.
Kim Donais says there are two grant-funded renovations that will take place — installing LED lighting and replacing the building's windows.
The lights in the hall are due for a replacement because they're nearly 25 years old, Donais says.
"They're not that efficient, relatively speaking," he said.
In addition to serving as a gathering place for Redcliff's scouts and guides, the building is rented out for private functions, such as birthday parties, wedding showers, anniversaries, reunions and whatnot.
"It's a fairly well-used facility," Donais said.
He says sometimes the lighting is too bright for the likes of the groups who rent it out.
"Now with the LED technology, we can actually put a dimmer control on the whole hall, if you can imagine that," Donais said.
The lighting replacement is being funded by the Servus Credit Union, while the association is still in the process of applying for a grant thrugh the provincial government's Community Facility Enhancement Program.
"Some big things happening at the hall," said Donais. "There's a really small group of us who take care of that facility. It was built by volunteers 40-odd years ago and it's still volunteers who are doing the ongoing maintenance and operation of the facility."
The building is owned by the Redcliff Scouts and Guides Building Association, which has leased the facility from the town since the 1970s. This allows the scouts and guides to use the building rent-free.