Suffield Youth Group keeping local kids busy
Posted on September 24, 2019 by 40 Mile Commentator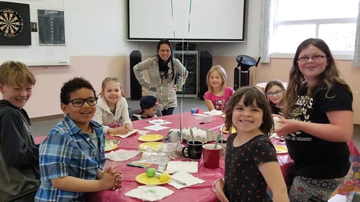 Photo submitted KIds play at a Suffield Youth Group meeting. The group gets together once each week for free activities.
Mo Cranker
Alberta Newspaper Group
The Suffield Youth Group is doing its part to help kids in the community stay busy.
The group meets every Thursday from 6:30 p.m. to 7:30 p.m. at the Community Hall to play games and take part in a number of fun group activities.
"We open the hall every Thursday and we do a number of different things each week with the kids," said group organizer Daina Rance. "There isn't one specific activity or thing we do on any given week — it's just about having fun and being together."
The group often holds free play sessions but has done things like cooking nights, darts, foosball, hide-and-seek and even the occasional field trip, says Rance.
"We've made our way to the Dunmore Dugout before — that's always fun," she said. "Sometimes we'll go out together and see a movie — we've held swimming nights and those can be really popular."
Rance says the goal of the group is to offer a fun place for kids to hang out every week.
"We've been doing this for around two years and we break for the summer," she said. "We don't charge any money for this unless we need a bit of cash for a special trip — people can just show up with their kids and they're welcome.
"We're a small community here in Suffield, so it's important to do stuff like this."
The group has been hosting events at the hall and as a mother; Rance says she knows the importance of organizations like the Suffield Youth Group.
"It's important for kids to be social and make connections and friendships," she said. "I've always loved working with kids of all ages, and as long as parents are OK with it, we allow just about any age of kid here.
"I always tell the kids, as long as they keep coming, I'll keep coming to host this."