Out with the old, in with the new for the Redcliff splash park
Posted on October 2, 2019 by 40 Mile Commentator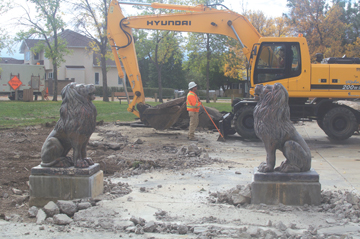 The lions are the only remains from the old Redcliff splash park which was demolished on Sept. 24 to make room for the new park.
By Justin Seward
Commentator/Courier
The 25-year-old Redcliff splash park at Lions Park was officially demolished on Sept. 24.
The tear down took place a day early, but with other construction projects going on around town, the water park project fit into the schedule on Tuesday.
"We estimated three to four days not knowing how thick some of the concrete might be because it's a 25-year-old park. But as it turns out it's six inches thick and it looks like about two days it'll be done," said Derrin Thibault, the town's director of community and protective services.
The new splash park's design has been completed and signed off by the project's sub-committee.
"It's going to be in a figure-eight style," he said.
"So sort of a little bit of separation from the tiny tots type of equipment to the older children type of equipment. There will be about 25 water features, whereas this one had 12 or 14 water features."
Some of the new equipment could be going up by mid-October, he added.
Splash park goers will notice newer technology where the water will not be on as long and will have motion activators for water conservation.
Water conversation strategies were a part of the plan as the committee chose a splash park that would be supported by a two-inch water line, sequencing and zoning, and an on/ off activation with hand or feet modules.
The existing lions and rock features will get an upgrade.
The theme will be a southern Alberta nature type.
"All the above ground features will be steel with poly cover on it in various colours. It's going to a lot like the posts that were here today," he said.
The Redcliff Lions Club, the town and the community at large and town council for finding the money for the project to go ahead this year were all involved in the planning of a new splash park concept.
A soft opening will be hopefully be held at the end of May when the park opens.