Annual library fundraiser a ladies-only night
Posted on October 15, 2019 by 40 Mile Commentator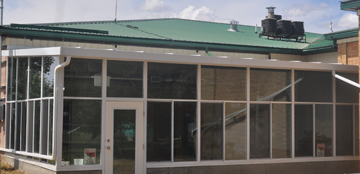 Commentator/Courier File photo
Justin Seward
Commentator/Courier
The annual Susan Andersen Memorial Library fundraiser this weekend is for those ladies looking for a night out.
The fundraiser is a "Little Black Dress," event where it gives the opportunity for Bow Island ladies to dress up and have a great ladies night out.
"I've been organizing this for probably eight years now," said Tara Robertson, head organizer from the library board.
"I haven't done it every year. The last one was two years ago. It was the idea that I was new in town and I love to get dressed up and go out for a ladies night. But there is very few options to do that in Bow Island. I created the Little Black Dress event and it sort of transformed into a fashion show."
Everyone who buys a ticket for the night will get a free drink ticket, appetizers will be available to eat.
"It'll be a mix and mingle for the first half an hour," said Robertson.
"The fashion show will start at 7:30 p.m. and we're hoping that will last for 45 minutes. After the fashion show, ladies can grab another glass of wine. They can have some more food, they can visit.
"One of the things we make sure we include is women of all ages and sizes. We have different ages in our models, we also have different body sizes and they are all from Bow Island and area."
Robertson says there will be a few choice vendors that are geared to women and self and the women can do shopping as well.
Doors for the Little Black Dress event open at 7 p.m. and is being held at the Bow Island Multi-plex on Oct. 18.
Tickets are $20 and are on sale now at the Susan Andersen Memorial Library or through Robertson by calling (403) 866-9272.
All the proceeds will go back into the library's solarium project.