Bow Island Elks continues to be a staple organization in town
Posted on October 15, 2019 by 40 Mile Commentator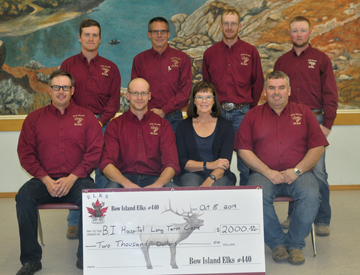 Commentator/Courier File Photo by Justin Seward Judy Vanham (middle) of the Bow Island Health Centre Long Term Care Family and Resident council receives a cheque for $2,000 from the Bow Island Elks Club on Oct. 8, 2019 . The council was the latest recipient from of an Elks Club donation. The money will go towards the residents' meals/outings and events not covered by Alberta Health Services. The Elks Club is now uncertain after cancelling their 2021 auction what funding avenue to take moving forward.
By Justin Seward
Commentator/Courier
The Bow Island Elks Club has been in town for many years and continues to dish out funding from their annual auction supper to help local organizations with bigger projects.
"We're one of the bigger clubs that donate generously to the community through such things as the hospital, recently the running track, church groups,4-H groups, HALO, food bank, Meals on Wheels and victims assistance when it was still in the area," said Shane Lane, Elks Club past president.
"We try to centre most of our funding in the community. We've got a huge number of new guys from trying to make it a little more fun, a little more interesting, try not to drag our meeting on and make it a friendlier environment for people to come and kind of a night out."
Lane says 90 per cent of funds that come from their annual supper auction fundraiser and golf tournament go right back into the community.
"We try to give back to the community in such a way they give to us," said Lane.
"We've gotten huge support from the community to do it. We're proud to do it."
What has made the Elks Club more successful over the years have been more members joining because people have walked through the door to their annual events and are curious as to how the organization works.
"I think we sustain ourselves because we are an agricultural community," said Lane.
"We understand the need for groups such as the Elks and Lions and other groups in Bow Island and give," he said.
"In a setting such as ours, it's a closer group. Not like an urban setting where you're not as close with your neighbours as you are in a community like Bow Island."
The auction and supper event has raised around $1.2 million over the last 30 years to disperse back into the community.