Talons come up victorious as zone hosts
Posted on October 15, 2019 by 40 Mile Commentator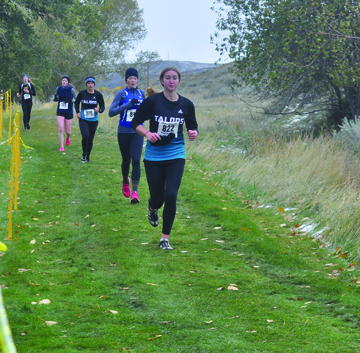 Commentator/Courier File Photo
By Justin Seward
Commentator/Courier
For the 15th time in the last 16 years, the Eagle Butte High School Talons cross country team have taken home the 3A South Zone Championship banner.
The teal and black took home the banner on their home track in Echo Dale Regional Park on Oct. 9 and in the process qualified 23 runners for provincials at the same location on Oct. 19.
Kaden Rath led the pack for Talons as he finished first in the five kilometre intermediate boys category with a of 19:24.48. Josh Graham won the two kilometre para event in a time of 9:44.11.
The top eighteen in each of the junior, intermediate and senior girls and boys races qualify for the season ending provincials.
Megan Curran was a Talon that competed in the intermediate girls category and placed 9th, comfortably securing a spot at provincials.
"At the beginning I was really nervous," said Curran.
"But once I got into it, it was good. The hills were hard but once you managed them it was fun.
Runners had to brave the cold, winter- like conditions at the park.
"Just keep moving your arms, lift your heels and think positive," she said of preparing for the cold.
Josie Drefts finished just ahead of Curran in sixth and for her the motivation to get to provincials helped with getting through the crisp conditions.
"I usually surround myself with other Talons and get in the zone," said Drefts.
"I don't really worry about anyone else but the run."
Head coach Darryl Smith says all his runners stepped up in the race.
"Our kids really stepped up because the coaches weren't there to warm them up," said Smith.
"They warmed themselves up. It was amazing. They've listened to us in what we're doing. They've really now is understood what it means to be an athlete. That was a cool part for me watching as a coach. As coaches, in the end, we want them to take the leadership themselves and really did especially on a freezing cold day."
Smith says all 80 of his runner ran a personal best time.
"They just took a professional approach to the race. The kids had their own plan," he said.
Runners were already talking to coaches and parents at the conclusion of the zone race of a plan to make adjustments for provincials.
"As a coach your job is sometimes not to be needed anymore," he said.
"I felt like we've done our job and they went and did theirs using their skill set."
Chinook took the 4A banner, Raymond the 2A and Lethbridge's Ecole la Verendrye the 1A.
As for the junior high divisions, Raymond came away with the 4J banner, Stirling the 3J, Seven Persons School reeled in the 3J and Gilbert Paterson the 1J.