Foremost School students gets hands-on experience in fire safety trailer
Posted on October 22, 2019 by 40 Mile Commentator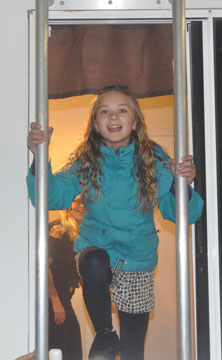 Commentator/Courier Photo by Justin Seward Foremost School student Kendyl Hollingsworth yells "Fire, Fire!" as she climbs safely out the window during the Fire Safery Trailer demonstration at the Foremost Fire Hall on Oct. 17.
By Justin Seward
Commentator/Courier
Foremost School students in kindergarten to Grade 6 learned the basic scenarios to use if there is a fire in their house in the fire safety trailer on Oct. 17 at the Foremost Fire Hall.
"The fire safety trailer is used to teach kids and adults how to be fire safe at home and how to do a proper EDITH (Exit Drill In The Home),"said Jennifer McMaster, administrative officer with Vulcan County who brought in the safety trailer.
"By doing this we teach them the proper ways to check a door and to see if it's safe to go through, learn how to climb out of a ladder from a window, what signs to look for if there is a possible fire in their home. As well we have the kitchen, which we can simulate both kitchen oven fires as well as element fires and small appliance fires such as a toaster. We teach them how to use fire extinguishers and how to extinguish an element fire and the safe ways of watching an oven fire go out."
McMaster says in teaching these kids these steps when a fire occurs, that they are told not to fight a fire on their own and this something they need to know and to understand what to do when they are home with their parents so they can help when they need to.
"But more importantly the message is get out," she said.
"Get out of the house, get to your safe meeting place and teaching them that it's important to know how to get out of every room, at least two ways out and knowing where their safe meeting space is afterwards."
A new addition to the trailer was the severe weather package, where there is training if a tornado earthquake or a hurricane were to occur.
Students did not experience that portion of the trailer.
"We just try to get it out in the community and teach as much as we can, the better for us when we come to know that everyone is going to be out and going to be safe," she said.