Motz wins riding for second term in a landslide
Posted on October 22, 2019 by 40 Mile Commentator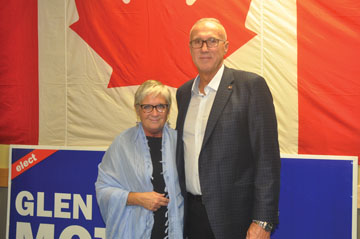 Re-elected Medicine Hat-Cardston-Warner Conservative MP Glen Motz poses with his wife Sue after Motz won his riding.
Justin Seward
Commentator/Courier
Medicine Hat-Cardston-Warner Conservative Party of Canada MP Glen Motz won his riding with more than 80 per cent of the votes in Monday night's federal election.
"It's a real honour to serve the constituents of this riding," said Motz.
"I want to take the opportunity to thank the voters of Medicine Hat-Cardston-Warner for putting the trust in me again. I want to thank the team around me of the close-knit campaign team that put this together and then we had hundreds of volunteers that helped us out over the course of the last 40-plus days."
"I am watching nationally and I'm not seeing the numbers that I would've liked to have seen just yet."
Motz says the 40 days of campaigning went great.
"We started off really strong. We put a lot of effort in at the front end, he said.
"We kind of stayed flat-lined for awhile in the middle and the last four or five days, the team, Pat the campaign manager, has done an incredible job of co-ordinating our volunteers so we can get the vote out. We door-knocked up until Saturday and we door-knocked again today … the grassroots here has really stepped up and they really came to participate in this."
As of press time, the federal election results showed a minority Liberal Government, and Motz was asked what the Conservative strategy was going in as the opposition.
"Going to Ottawa I'll do what we did last time. You build relationships with whoever is in government," he said.
"Whoever has ministries that have impact on things in your riding and projects in your riding, you advocate for the things that matter to the people here. I'll continue to stand up for the issues that matter to Canadians and the people in my riding."
Motz says on a local scale the Conservatives will continue to work toward ensuring the local agricultural base has access to trade markets, more on the tensions with China India, Italy and Saudi Arabia as well as high-speed internet in the rural regions.
Motz received 38,959 votes in the riding, with the NDP's Elizabeth Thomson coming second with 4,111, the Liberals' Harris Kirshenbaum with 3,056, Andrew Nelson of the People's Party with 1,249, the Green Party's Shannon Hawthorne with 1,076 and independent Dave Phillips with 311.