Top 10
Posted on October 22, 2019 by 40 Mile Commentator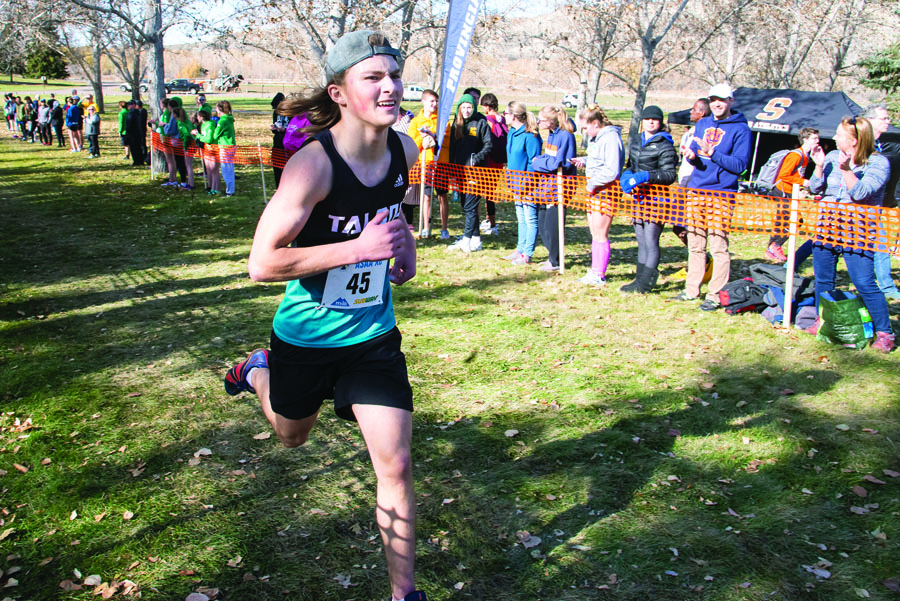 Alberta Newspaper Group Photo by RYAN MCCRACKEN Eagle Butte's Kaden Rath races down the home stretch in the Alberta Schools Athletics Association cross country provincial championship intermediate boys five-kilometre run on Saturday, October 19, 2019.
By Ryan McCracken
Alberta Newspaper Group
Kaden Rath's hard work paid off in a big way on Saturday at Echo Dale Regional Park.
After devoting his free time to cross country running this fall, the Eagle Butte Talon closed the book on his season with a top-10 finish in the intermediate boys five-kilometre at the Alberta Schools Athletics Association championships.
"Honestly, I never realized I could run this well," said Rath, who finished ninth with a time of 19:29. "I always did cross country but never really applied myself. It's nice to see a result when you try.
"I'm pretty proud of myself. Ninth in Alberta, that's big to me, especially considering how much these guys (from other schools) have been practicing compared to how I have, it's nice to see a result like that."
It didn't come easily, as Rath says the home stretch featured a back-and-forth battle for positioning with a few other runners.
"Man, they battled hard," he said of the intermediate boys competiton, which featured 115 runners from across Alberta. "There were about three of us for the last two kilometres that kept switching back and forth. That was quite the battle, it was awesome."
Rath added nine kilometres separate his home from the highway, so he pushed himself to tackle the extra distance in order to develop his conditioning for the gruelling course at Echo Dale.
"I tried to run that as much as I could to prepare myself for this course, said Rath. "I definitely dug in a lot harder. This summer I did a lot more running … I came out (to Echo Dale) for a few practices, but that was only the second time I've run the full 5K."
The top-10 finish caps off quite the season for Rath — who won the South Zone intermediate boys five-kilometre with a time of 19:24 and went on to help Eagle Butte claim second place among 3A schools with 1274.31 points as hosts of the provincial championships.
"I know for (coach Darryl) Smith, cross country just runs through his blood. Hosting a big event like this must have meant a lot to him and the team in general," said Rath, adding the team truly came together to support each other throughout the season. "It's been amazing. They're at every corner, every leg of the race cheering you on. I couldn't do it without them encouraging me."
Hat High's Keegan Kolody was the only local runner to finish on the individual podium after taking second in the para-athelte two kilometre course with a time of 4:36. Eagle Butte's Josh Graham finished fourth in 10:16, followed by Hat High's Sam Henderson in 14:41. Eagle Butte's Darren Salzl rounded out the seven-runner field with a time of 16:54.
Ecole Les Cypres' Ayla Wikjord led all local athletes in the intermediate girls five-kilometre course, finishing 23rd in a field of 109 with a time of 25:15.
McCoy's Bree Becker took 34th in the junior girls four-kilometre race as the top local competitor in a field of 120.
Colton Robinson, of Eagle Butte, led the local field in the junior boys event with a 44th place finish among 120 runners, closing out his race in 17:07.
Hat High's Hannah Salmon finished 30th in the senior girls six-kilomtre race — which featured 114 runners — with a time of 25:35.
Eli Smith, also of Hat High, led all local runners in the senior boys event — finishing 51st in a field of 109 with a time of 25:43.
Lethbridge Collegiate edged out Eagle Butte for the 3A banner with 1707.99 points. Both sent 24 runners to the provincial stage
Crescent Heights finished 10th among 3A school by collecting 367.65 points with five runners, while McCoy sent three runners and took 31st with 148.40 points.
With nine athletes, Hat High finished 26th among 4A schools on 308.31 points. Strathcona took the banner with 2557.44.
Raymond took the 2A title with 841.52 points, while Parkland Immanuel Christian clinched the 1A banner with 722.19 points. Ecole Les Cypres collected 165.07 points with two runners to finish ninth among 1A schools.