Verhaeghe wins UN award
Posted on October 22, 2019 by 40 Mile Commentator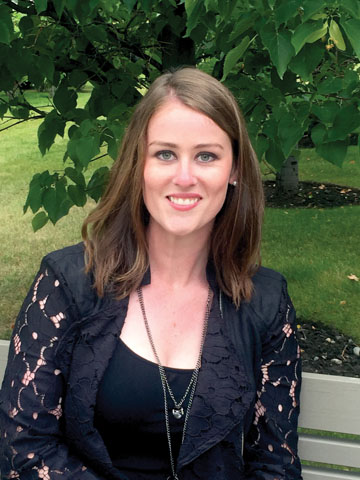 Lindsey Verhaeghe won an SDG Pioneers award for her contribution to creating mini-games in the Hero app to connect the 17 SDGs to become an education tool.
by Justin Seward
Commentator/Courier
Foremost's Lindsey Verhaeghe has been recgonized for her creativity in educating young children on how to feed the world.
Verhaeghe, 35, won a United Nations (UN) Global Compact SDG (Sustainable Development Goals) Pioneer award last month for doing an exceptional job making global goals into local business.
It is through their own business or mobilizing other businesses, they are helping to reach one or more SDGs and contributing to business success.
She found out about the award after winning the Canadian version of the award and was recommended to the Global Compact international headquarters in New York.
"It's an honour to be recognized by the UN Compact," she said.
"I won Global Compact Canada's SDG Pioneer award first and they put forward my name to the international office at Global Compact who notified me by email in early September. The award was presented in New York at the UN headquarters at the end of September. I was unfortunately unable to travel to accept the award in-person."
Verhaeghe works as a Sustainability Initiatives Manage at Nutrien Ag Solutions and sees the value of fun, educational games to teach the public-particularly youth- about SDG and the challenges of agriculture.
In conjunction with the Global Compact Network Canada and the Sustainable Development Solutions, Verhaeghe spearheaded the development of the mobile app Global Hero.
The app consists of the 17 mini-games with each game focusing on one Global Goal, giving the user an opportunity a better understanding of each topic.
The 17 SDGs include no poverty, zero hunger, good health and well being, quality education, gender equality, clean water and sanitation, affordable and clean energy, decent work and economic growth, industry, innovation and infrastructure, reduced inequalities, sustainable cities and communities, responsible consumption and production, climate action, life below water, life on land, peace justice and strong institutions and partnerships.
"Agriculture is the foundation for life yet the disconnect between urban and rural continues to grow. Using educational video games is a powerful way to teach. Youth have a lot of questions about where their food comes from and when they dive into the Journey 2050 program they come up creative and innovative solutions to feeding the world. They also leave with a greater understanding and appreciation for growers," she said.
The games associated in Global Hero to her receiving the award were Journey 2050, which is designed for classroom settings, takes students on a farm simulation tour and Farm 2050, an animated farm game intended for home use and showcases agriculture practice on farms and ranches.
"The intent is that each program explains what the SDGs are and encourages the students to take action to help achieve the global goals," said Verhaeghe.
Her employer, Nutrien, has been a participant in the United Nations Global Compact since 2008.
Verhaeghe grew up on the family farm in Foremost, where there has been a ranching operation for 100 years.