Bow Island ghouls damage local residence
Posted on October 29, 2019 by 40 Mile Commentator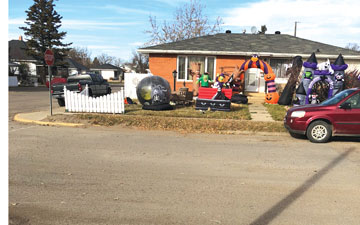 Photo submitted by Kelly Byam The Byam residence was hit with property crime on Oct. 23.
By Justin Seward
Commentator/Courier
Kelly and Karen Byam have been in the community spirit for years with decorating their Fourth Avenue Bow Island home for Halloween and Christmas with many inflatable and hanging decorations to the excitement of local kids.
However, the Byams were at home on the night of Oct. 23 at 10 p.m. and noticed two of their halloween decorations were destroyed on the First Street West side of their home.
"They slashed some of our (Halloween) inflatables," said Kelly.
"I'm going to make a statement saying 'that's it for inflatables at the Byam residence because it's not worth it because of those brain dead people that decide to destroy things that's not their property.'"
Kelly says Karen found a license plate of one of the vehicles and he was going touch base with them.
"The neat thing is that you're not going to prove it because unless you have something on camera, they'll just deny it. It's just very frustrating that you go through all that work and it's for the kids," said Kelly.
One of the inflatables was worth $80 while the other costed over $100.
"Probably $200 damage," he said.
"At this point, it's just not worth it to put stuff out, so we can get these idiots that just want to destroy things."
Kelly said he has an idea of who the group was but did not want to mention who they were.
RCMP have been made aware of the  incident.