Student Vote became a great learning tool at Margaret Wooding School
Posted on October 29, 2019 by 40 Mile Commentator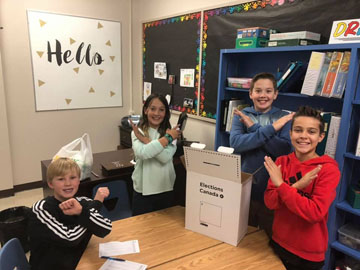 Margaret Wooding School students Brody Ksenych (l-r), Daxton Rieder, Peyton Booker and Caysh Corsie counted the votes for the school during student vote on Oct. 17.
By Justin Seward
Commentator/Courier
Redcliff's Margaret Wooding School was one of many schools across the province to participate in the Student Vote prior to the 2019 federal election.
Student Vote is a Canada-wide initiative that coincides with government elections and provides students the opportunity to learn about government and electoral process with researching parties and platforms, discuss relevant issues and cast ballots for the official election candidates.
The school participated on Oct. 17, where all the results were sealed until after the adults voted on Oct. 21.
Austin Campbell is a Grade 6 student who was a participant in the student vote and thought it was important to participate because it was good practice for when the time comes they can actually vote as adults.
"I will remember how you could easily mess up if you fill in your ballot wrong," said Campbell.
Campbell says he voted for NDP because his dad likes them.
Peyton Booker was a student organizer on the day and was surprised among the student body how big the Conservative Party was.
"What stood out the most to me was how big the Conservative victory was. It was fun to be one of the organizers and help kids learn how to vote. Plus, we got subs for helping," said Booker.
Booker's father works in the oilfield and she felt that the Conservatives was the best fit because they were good for oilfield.
The school's Student Vote coordinator Eli Merrick gave his take on the day.
"The student vote program is an excellent way to promote citizenship and to practice real-life skills. The resources that teachers received from the civix.ca group align well with the Grade 6 Social studies democracy unit, he said.
The majority of students at Margaret Wooding voted for the Conservative Party. The Green Party were the runners up.