Talons to stay sharp as volleyball playoffs approach
Posted on October 29, 2019 by 40 Mile Commentator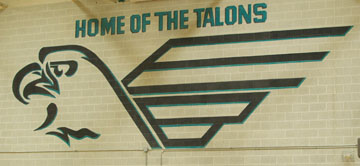 By Justin Seward
Commentator/Courier
The Eagle Butte High School Talons senior girls volleyball team has had some strong showings in tournaments this year and for that the ladies have more consistency in their game.
"I guess just looking for improvement which I think we've seen so far and striving to go far as we can at the end of the season ," said Montana Wright, a Grade 12 middle on the team.
The team is comprised of five seniors and seven Grade 11s, which Wright considers to be an even team.
"I think our team effort is really good when we have that intensity and communication and not giving up on the ball," she said.
What may have been a turning point match in the black and teal's season was a few weeks back at the Sunny South tournament in Medicine Hat where the lady Talons were down 14-4 in the final and battled back to win the event 18-16 over McCoy.
"Just making that comeback gave us that mentality and nothing is over until it's over," she said.
"I think we're taking that and remembering that for when we're down that you can never give up. I think we have to keep that in our mind that games like that can happen again and you have to keep fighting for it."
Wright was a part of that silver medal win at provincials last season and the mindset she brought forth from that experience is that as a team you have to push the competition and that nothing is a given.
"The competition is really strong within our city and zone this year. We're going to have to fight for it. It's possible as long we can do what we can do," said Wright.
"There's so much competition. We've got to make sure everything is consistent and we can't let anything bother us."
Head coach Darren MacMillan says the team has been through a lot of ups and downs this year, but he was never worried about being real good at the start of the year until the girls maneuvered their way around and see where they all fit on the court.
"I think we've got around that corner and we're going to be peaking at the right time of the year ," he said.
MacMillan says the team is a committee and not just made up of one or two girls.
" If somebody gets hurt or if somebody goes down, I think we have depth to recover from that," said MacMillan.
The girls' ball pursuit and tenacity with not letting the ball hit the floor is coming around as well as the mental preparation going into a game, he added.