Town seeking new CAO
Posted on October 29, 2019 by 40 Mile Commentator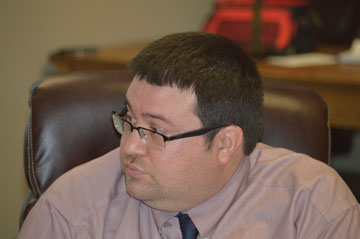 Town of Redcliff Chief Administrative Officer Arlos Crofts informed council recently that he would be stepping down from the position with the town and moving to a different southern Alberta community to work in the same capacity,
By Justin Seward
Commentator/Courier
The Town of Redcliff is looking for its new Chief Administrative Officer after Arlos Crofts told council at their Oct. 15 meeting that he would be moving on from the municipality after six years in December.
Crofts has been very fond of his time in the town known as the Greenhouse Capital of the Prairies.
"My time in the Town of Redcliff and this whole general area has been rather enjoyable," said Crofts.
"I've been able to spend a lot time with a lot of good people. When you're the CAO of a municipality, you have the pleasure of working with those that are pursuing the community's interests and you learn a lot from those people."
Crofts says with moving on that there are opportunities that take you closer to home and help you work towards some of your other goals.
"From a personal perspective, I'm moving on to an opportunity that puts me really close to home," said Crofts.
"That gives the opportunity for my kids to get to know their grandparents a little more and see them more often, which is important to us."
A highlight of his was being a part of the grand-opening of the $20 million water treatment plant in 2016.
"That was a decade long project and I was able to benefit and be here to see it get built. There was a lot of work and effort put into it before I arrived but it's always nice to see something get done," he said.
Another more recent memory for him is the recent construction season with the splash park rehabilitation, the planning stages of a skateboard park and arena upgrades.
"It's a busy place right now and that just shows how council wants to make Redcliff better for the long haul," said Crofts.
Redcliff Mayor Dwight Kilpatrick says council will be sad to see him go.
"I always thought that Arlos tried to work for Redcliff and to get the best possible deal we could," said Kilpatrick.
"He was fairly sociable and friendly with the public. I don't think a whole bunch of public could jump up and down and throw mud at him. He tried to juggle his job and the needs of the community and us all at the same time. All seven of us (councillors) are his boss and sometimes that's not always easy."
Crofts has accepted the same role in a different southern Alberta town and respectfully requested not to name the community at this time.
His last day with the town is Dec. 20.