Bow Island RCMP looking for identification on an abandoned boat
Posted on November 1, 2019 by 40 Mile Commentator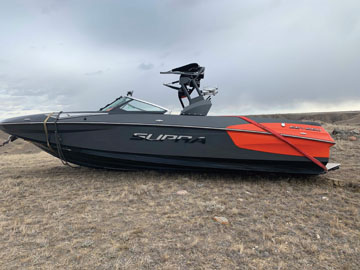 Photo submitted by the Bow Island RCMP The abandoned orange Supra 550 SE.
Commentator/Courier
Bow Island RCMP are asking for the public's assistance in identifying an abandoned boat.
RCMP received a report on Oct. 18 of an orange  Supra 550 SE  boat being abandoned in a coulee near Winnifred Colony.
If anyone has any information on the identification of the boat is asked to call Bow Island RCMP at (403) 545-2784.