Pythons strike gold in league final
Posted on November 6, 2019 by 40 Mile Commentator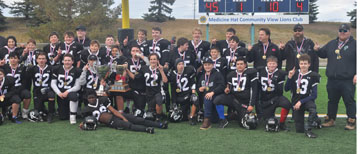 Commentator/Courier Photo by Justin Seward The Parkside Pythons won the league championship over the Medicine Hat Hawks on Nov. 2 at the Methanex Bowl.
By Justin Seward
Commentator/Courier
The Redcliff-based Parkside Pythons football club are back on top of the local bantam football ranks after winning the Rangeland Football Division title 48-31 over the Medicine Hat Hawks on Saturday at the Methanex Bowl.
The win capped off an 11-0 season for the club.
"Weird," said Nathan Kobley, Pythons head coach on winning the championship in his second season at the helm.
"It's new. Our kids work hard. We have a good coaches that show up every single day. All of us are volunteers. We don't get paid for this. We just show up, do our best. A lot of these kids, we've been coaching for three years, so it's been nice having them out here and working hard at it."
There was one key element of the snake's game that set them aside from their counterparts.
"We play the full game," said Kobley.
"We don't take any plays off and that's what we keep striving to our kids to play the full game and work hard and good things happen. It's been like that all year and it hasn't changed yet."
There was no better feeling to cap off an undefeated regular season for the players.
"It was a great feeling," said Blake Rose.
"We've put a lot of work into this. It means a lot."
Hudson Stewart says the momentum changed throughout the game, but the players were able to rally back at half time and become league champions.
"I played last year and we were third place, so this feels pretty good that we're on top," he said.
Abdul Kiawan is a third year player and this is his second championship in three years with the Pythons.
"It feels different, said Kiawan.
"I came into the game expecting to win, which we did as a team. But this is the beginning. We're looking forward to the provincial championships."
The Pythons will shift their attention to the provincial semi-final against Stettler at the Methanex Bowl on Nov. 9 at 2 p.m.
The provincial final will be up north the following weekend.