Gators ousted by Hat High in league final, focus shifts to upcoming weekends
Posted on November 12, 2019 by 40 Mile Commentator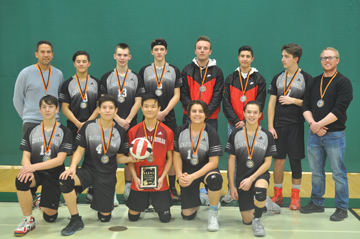 Commentator/Courier Photo by Justin Seward The Senator Gershaw senior boys volleyball team placed second in league playoffs at Medicine Hat High School on Nov. 6.
By Justin Seward
Commentator/Courier
The Senator Gershaw Gators senior boys volleyball had to claw their way through the South East Zone Volleyball League at Medicine Hat High School on Nov.6 because of a couple of key injuries to Grade 12 middle players.
The boys had a bye into the semi-finals where they took care of the Crescent Heights Vikings in the third and deciding set.
But the relentless effort only went so far as Senator Gershaw lost in straight sets (25-12, 25-8) to the Medicine Hat High School Mohawks in the final.
"We lost two Grade 12 middles on the weekend to a knee and an ankle injury, and for them (the team) to come to this tournament and come second. Yeah, regardless of the final, I'm super proud of how they performed," said head coach Andy Phillips.
The team won the league title a season ago on home court, but it was this time around that the team did not feel any extra pressure or did not need any motivation to get to the final.
"We're a small school coming to the city to compete against these big schools. There's not a lot of pressure on them. This group is self motivated anyway and there's not much I need to say to motivate them. They motivate themselves."
With Zones coming up this weekend , Phillips' hope is to get those injured players back and healthy in an attempt to win zones and ultimately the provincial title on home court next week.
"A zone banner would be nice but really the focus for this group is provincials," said Phillips.
"If we play well. If we play like I've seen them play we have a shot at medaling at provincials and that's the focus right now.
Zones are in Lethbridge this weekend and the 1A Provincials are at Senator Gershaw from Nov. 21-23.