Unity Electric continue to stay steady in the Bow Island community
Posted on November 12, 2019 by 40 Mile Commentator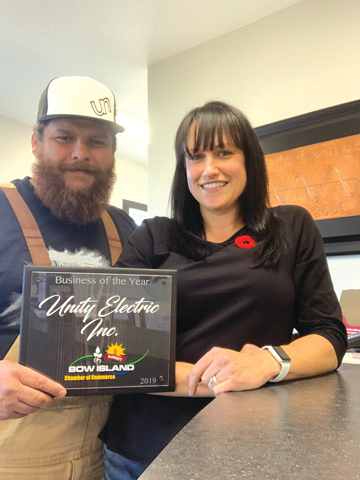 Photo submitted by Kim Mitchell Unity Electric owners Jeremy and Kim Mitchell have had their Bow Island business since 2009 and have strong local support. The company won the Chamber of Commerce Business of the Year for 2019.
By Justin Seward
Commentator/Courier
Unity Electric has conducted business in the Bow Island and surrounding community for 10 years and continues to distribute steady business with all the options the company offers.
The electrical contracting company services Bow Island, the County of Forty Mile and take out of town jobs in Saskatchewan and northern Alberta with residential, commercial, agricultural, industrial buildings and fire alarm jobs.
"I would say we owe most of our success to working in the Bow Island and County of Forty Mile area due to the fact that our customers are people that live here (who) like to support local ," said Kim Mitchell, business manager and co-owner with her husband Jeremy.
"We seem to always get a chance to earn their business at least. And because we're local and involved in the community. People are more easily forgiving and definitely hope to support us in any way that they can."
Mitchell says the company relies on their local advertising to put out any campaigns or sales that are going on.
"We're always involved in a lot of local committees to make sure we're out in the community," she said.
The warmer months are Unity Electric's busier periods, but Mitchell feels they are fortunate to have a lot of local contractors that construct the buildings in Bow Island and then shipped elsewhere.
"Even when the local economy isn't busy, we seem to benefit from a wider range," said Mitchell.
Unity Electric tries to expand things on their offers and introduce new technologies to the agriculture industry as it becomes available, she added.
"Definitely the energy efficiency. Innovations are important, we like to learn about those as they come out and introduce them to our customers," she said.
"We like to hire local. We've got all but one employee based out of Bow Island or the County of Forty Mile."
The company was named the 2019 Bow Island/Burdett Chamber of Commerce Business of the Year at the Small Business Week Wine and Cheese Night and were very appreciative of being selected.
"We definitely recognized we could not have earned that title without the support of our customers and employees," said Mitchell.