Burdett School continues to show rich history of traditions
Posted on November 19, 2019 by 40 Mile Commentator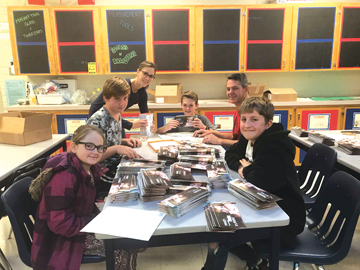 Photos Submitted by Amber Pinchin Grades 4 and 9 students at Burdett School folde 23,000 pamphlets for the Street Alive mission in Lethbridge.
Submitted by Amber Pinchin, Burdett School vice principal
Burdett School has a rich history of traditions that are both fun and purposeful. When our new principal, Cheryl Rebmann, started this school year, she asked us to fill her in on as many of these traditions as we could think of. It didn't seem like a difficult task at the time and we gave her a long list, but as the year goes on it has become clear we missed a few. We take for granted how many little things we do all the time. Our fall kindness projects fit that description perfectly- we didn't think to put them on our list, but they are part of who we are as a school.
Again this year, students in Grades 4 through 9 teamed up to fold and stuff pamphlets for Streets Alive mission in Lethbridge. We folded over 23,000 pamphlets, to give you an idea. This act of kindness gives the organization a great boost with its main fundraising campaign of the year. The organizers are always thankful for the efforts of our kids and the community members who faithfully join us each year.
For our younger students, the random act of kindness gifts we make and deliver to our Burdett neighbours are a tangible reminder that it is, indeed, better to give than to receive. The fun of creating items with siblings and friends from other grades seems like it should be the highlight, but seeing the faces of those we deliver the completed projects to has actually proven to be the best part for many. This year, a very wise young man told me something after delivering his first gift and I will never forget it- "Mrs. P, my outsides are cold but my insides are warm!"
Please join us in showing kindness to others- through our thoughts, our words, and our deeds.