Bow Island couple helping with Lifewater project in Haiti
Posted on November 26, 2019 by 40 Mile Commentator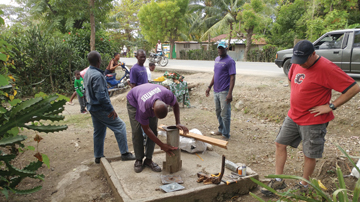 Photo submitted The Lifewater project involves drilling clean water wells for the people in Haiti.
By Stan Ashbee
Alberta Newspaper Group
A couple living in Bow Island are the life behind a water well drilling project in Haiti. When Les and Ruth Babcock left Haiti, they continued the work, but eventually Lifewater Canada took over the volunteer-based collaboration. The Babcocks continue to volunteer and there are quite a few from the Bow Island area, Medicine Hat and Vauxhall that donate money, time and travel.
Lifewater Canada, according to the Top 10 Impact Charities, provided safe drinking water to approximately 25,000 people in Liberia and drilled 22 more wells than the year before, when it was ranked . The charity completed 32 wells in Haiti to provide safe drinking water. In Kenya, the charity repaired 15 wells, completed 15 wells and water catchment systems and installed two washrooms. Lifewater Canada reports its rate of drilling a successful well is over 80 per cent.
Founded in 1997, Lifewater Canada is a volunteer-based charity that works to provide affordable water and sanitation projects in Haiti and Sub-Saharan Africa. The charity reports unsafe water is the leading cause of disease and death. Over two billion people globally drink from water that is contaminated with feces. Consequently, over 800,000 people die yearly from diarrhea caused by unsafe water, sanitation and hand hygiene.
Les Babcock's current role is as a volunteer Haiti co-ordinator for the program. "I actually started the drilling program back in 1983."
"We were living in Haiti at the time and my wife was a nurse and about 50 per cent of the people she saw on a daily basis at their clinic were problems caused by water. That was kind of the origin of getting it started and it became a much bigger job than you always think and getting the equipment and getting things to happen," Babcock explained.
When Babcock came back to Canada in 1985 he went through the water well drilling program at Red Deer College. "To be able to train the guys better down there. So we went back. Mainly what we do now is just keep the guys in equipment and parts and training."
"We have about 12 people that work for us full-time down there. Local people we have trained and support through donations. The main support actually comes from people who sponsor a well," Babcock noted.
People, Babcock added, work for the organization as contractors, as funds can't simply be sent to Haiti or elsewhere due to tax reasons.
Currently, Babcock said, Haiti workers drill a well and then send a well report and then the organization sends workers the funds for the well.
Right now, the County of Forty Mile and the M.D. of Taber support the initiative and other areas from across Canada, also support the organization's goals and aspirations.
One of the things Babcock likes about Lifewater Canada is it's a very accountable organization. "Very low in overhead. That's what drew me to it. They called me and asked me if we could work together," said Babcock. Lifewater Canada does all the receiving for donations and accounting, Babcock added.
Babcock said the organization has noticed people are a lot more healthier when they have water and a lot more appreciative of outside help. "Achieving something they couldn't achieve on their own is not an area that can hand dig wells, so putting in a well that is done correctly and sealed and it doesn't become contaminated that way and they are really appreciative of the work we do," Babcock said.