Cypress County to partner with Alberta Transportation on Dunmore intersection
Posted on November 26, 2019 by 40 Mile Commentator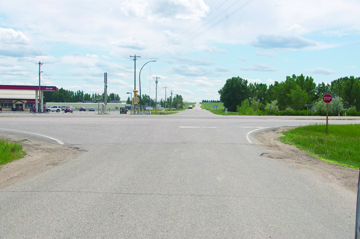 Commentator/Courier File Photo FINALLY STARTING: The Highway 1, Charles Street and Eagle Butte Road intersection is expected to start at the beginning of September.
Justin Seward
Commentator/Courier
It has been just about two years since the concept for the Eagle Butte Road, Highway 1 and Charles Street intersection improvements in Dunmore came to the forefront and now some action will be taken.
Cypress County council voted at their Nov. 19 meeting to partner with Alberta Transportation on the funding and upgrades to the Dunmore intersection.
The total cost of the project is $1.2 million, with a maximum of $400,000 coming from Alberta Transportation and the county contributing the rest with intersection improvements.
Council opted for Option 2 in the Memorandum of Understanding which will include a traffic signal and illumination, southwest radius improvement, southeast widening and radius improvements, northeast radius improvements and northwest radius improvements , a widen median opening and west bound lane widening.
There will also be a pedestrian cross walk also installed on the Eagle Butte Road.
"The funding for the traffic lights was approved about two years ago," said Cypress County Reeve Dan Hamilton.
"It's been going through the process to get all the engineering for it. I've been advocating for it for the six years I've been on council. It's a great step that we're getting Alberta Transportation to bring these lights in for us."
Hamilton says it's a great project with looking at all the incidents that have gone on at that intersection, the county knew something had to be done.
"Originally it was going to be $800,000 for the lights and to come in at $1.2 million to better that intersection, we feel it's money well spent," said Hamilton.
Hamilton was asked after advocating for the lights for a number of years, was there still a need for the lights at the intersection and safety changes.
"I get phone calls from rate payers in Dunmore all the time and other people around the area," he said.
" (With) that school being right down the road there, if you ever come out there at 3 p.m., it's a gong show and it's a safety hazard. Those are young kids that don't have driving experience that some of us adults have."
Cypress County Chief Administrative Officer Tarolyn Aaserud says the county is excited to partner with Alberta Transportation.
"It's an intersection that is congested. We very pleased that Alberta Transportation still wants to be a partner with us."
The project is expected to start construction in the spring of 2020 and completed by later in the summer.