Eagle Butte's Angel Tree initiative still going strong
Posted on November 26, 2019 by 40 Mile Commentator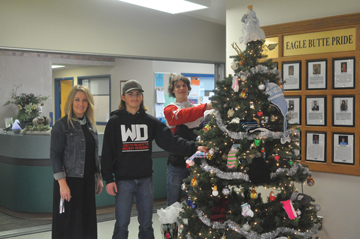 Cheryl Kelly,Kaden Rath and Harrison Heinrichs showcase the Angle Tree at Eagle Butte on the first day of the campaign on Nov. 20.
By Justin Seward
Commentator/Courier
Eagle Butte High School has been doing the Angel Tree Warmth and Hope campaign for over 10 years now to help those in need of warm winter wear or toys.
The campaign allows students or staff and the community to bring in a purchased pair of socks, mittens, gloves, toques, scarves and toys that will be put under the school's tree.
The items will then be delivered to the Salvation Army and dispersed to those less fortunate people in the community.
"We give back to kids in our school, but we also extend outside of our school environment and to our surrounding area," said Cheryl Kelly, school Angel Tree coordinator.
"It doesn't cost a lot of money to make a difference in somebody else's life. It makes you feel good."
The initiative has become more important over the years as family situations have become worse, she added.
"There (are) a lot of people out there in need. Whether it benefits kids in our community or outside of our community. We just know that we want to help," she said.
She says it's huge for the students to get involved.
"We always talk about volunteering," she said.
"…It's a selfless act and with November being random acts of kindness week and month, it's eye opening getting a kick start for kids. Remember it's not about you all the time and with Christmas around the corner it's time of giving, not receiving."
Donations will accepted at the school until Dec. 5, where then all of the items will be brought to the Salvation Army.