Rural Community Fund of Forty Mile received thoughtful donation
Posted on December 10, 2019 by 40 Mile Commentator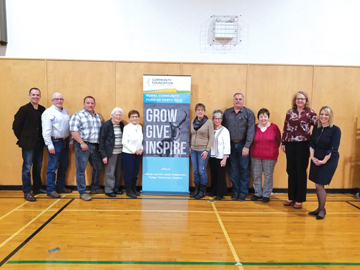 Photo submitted by Chris Christie Representatives from the Forty Mile Community Adult Learning Assocation Society and members of the local Advisor Committee from left to right: Clint Thacker (Chair), Larry Robinson (Committee member), Tyson Ormann (Deputy Mayor of Foremost); Donors Betty Van Staalduuin and Erma Schnee, Jodi Cassell , Janet Strom; Lorne Buis (Mayor of Foremost), Jill Bernhart, Stephanie Hlady, Michelle MacLean (Community Fund Coordinator).
By Justin Seward
Commentator/Courier
The now dissolved Forty Mile Community Adult Learning Association Society board fell under the community adult learning program for years and with that connection were recipients of a grant from Alberta Advanced Education.
Catherine Crockford, past chair of the Forty Mile Community Outlearning council, says their programming was engaged in yoga, computer and photography classes and other learning opportunities at the community's interest.
However the government's funding focus has shifted over recent years.
"Over the years, the council accumulated a fund through those activities and about five years ago when the government really started to really focus primarily on literacy learning, the grant no longer supported activities such as the yoga and the photography. The government recognizes those are important but they really wanted the community outlearning programs to focus on that foundational learning," she said.
"The Forty Mile Community Outlearning Program still exists in Bow Island and Foremost. They do provide a one-on-one tutor programs to work with literacy learners as well as some ESL (English Second Language Programming) in both communities and basic computer skills."
With the change , the society board would have had to operate at a loss and decided to donate their reserve funds to the Community Foundations of Southeast Alberta.
"We had reserved funds that we needed to look at what do we do with this. The board decided to leave a legacy fund through the Community Foundation of Southeastern Alberta that would continue to support learning activities for adults in the region."
The Rural Community Fund of Forty Mile was the beneficiary of the $10,000 grant from the Forty Mile Adult Learning Program Association society board on Nov. 26 during the fall grant application evening at Foremost School.
"That was a terrific opportunity for the County of Forty Mile to now have access. People can apply for grants to the Community Foundation each year and a grant that falls under lifelong learning," she said.
With the $10,000 grant  from the Forty Mile Community Adult Learning Association, the local advisory committee met their goal and the Rural Community Fund of Forty Mile matched the donation with another $10,000 that  is not spent. Every donation received by the CFSEA and the Rural Community Fund is instead the investment income generated from the fund that is granted out into the southeastern Alberta region.