30th annual Candy Cane Run spreads Christmas through Seven Persons
Posted on December 19, 2019 by 40 Mile Commentator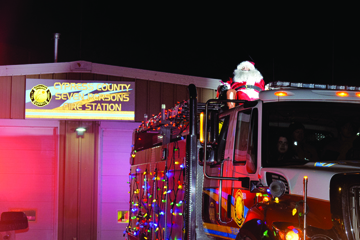 Commentator/Courier photo by Jeremy Appel Santa sits atop one of the fire trucks for the Candy Cane Run on Dec.15.
By Jeremy Appel
Alberta Newspaper Group
The Cypress County Fire Department spread the Christmas spirit throughout Seven Persons on the evening of Dec. 15.
The 30th annual Candy Cane Run brought firefighters door-to-door, delivering candy canes throughout town and collecting donations for the Medicine Hat and District Food Bank.
Deputy fire chief Dustin Vossler says it's important to spread "Christmas cheer" to give back to the community and support those who might not have the means to support themselves.
"Christmas is a tough time of year for people who don't have money to get food and have a happy Christmas with their family, so we try to help them out by doing this run and donating stuff to those in need," said Vossler.
Town and county firetrucks drive around Seven Persons, with designated walkers knocking on doors to collect donations while Santa sits atop one of the trucks.
Vossler says some people from the city come out each year to show their support.
"We try to publicize this as much as we can. People stop in their vehicles along the way, or stop in the community hall, come to watch and join us for the evening," he said.
Retired firefighter Gordon Bushell has been participating in the run since its inception.
A firefighter from Airdrie moved down to Seven Persons and told his colleagues about a similar event he had participated in up in Airdrie.
"We got on the bandwagon and decided to do it too," said Bushell. "We've been doing it ever since."
Vossler said they typically collect something in the range of 1,000 to 1,500 pounds of food.
"There's about 270 people in Seven Persons and they've been more than happy to help out over the years," he said.