County library hopeful for more funding
Posted on December 19, 2019 by 40 Mile Commentator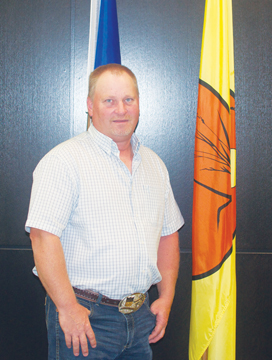 Cypress County Library Board chair Darcy Geigle
By Justin Seward
Commentator/Courier
The Cypress County Library Board was established three years ago and looks after both the Irvine and Ralston's Graham Library.
While Shortgrass Library Systems still provides money to both facilities, it is the Cypress County Library Board that provides a majority of the funding for both libraries.
"There's more available funding for those libraries," said Darcy Geigle, library board chair, on the change.
"Irvine started in 1976. So just through volunteers, their own board and donations, they were able to keep the library going. As time goes on more funding is needed. Now we were able to increase the hours of operation in Irvine, (and) get more little minds in there. They are our future right."
Geigle says when the board meets its focus is supporting programs that were in place already, but with the newly formed board it has broaden the scope with more hours and in the future Irvine will need a new building.
"We only have the two, so keep the education going," said Geigle.
"It's something that the community needs."
Geigle says the Graham library is in a good state because CFB Suffield provides a majority of the funding and are they in a recreation building with better access and a lot of travelers going through.
"That one is pretty self sufficient but everything needs more funding because everything is getting tighter," said Geigle.
Cypress County also provides old laptops to the library as well.