Redcliff students put focus on homelessness
Posted on December 27, 2019 by 40 Mile Commentator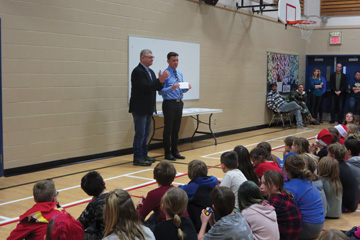 Alberta Newspaper Group Photo by Justin Seward Margaret Wooding School in Redcliff is eight days into a 12 day program of giving to The Mustard Seed to help those who are homeless. With the school children assembled, Craig Corsie, principal, gives Barry Knodel managing director for The Mustard Seed in Medicine Hat a cheque for $500.
By Gillian Slade
Alberta Newspaper Group
Students at Margaret Wooding School in Redcliff are half way through a program called 12 days of giving to help those who are homeless.
Each day there has been a focus on specific personal care items to bring to school for The Mustard Seed.
Principal Craig Corsie says the school has a focus on responsible, active citizenship and students responded enthusiastically by donating to The Mustard Seed and the homeless people the organization assists.
"The kids are part of something bigger. We can make a difference if we try," said Corsie.
Students also donated the proceeds from a hot lunch program and presented Barry Knodel, managing director for The Mustard Seed in Medicine Hat, with a cheque for $500.
Knodel estimates that there are currently about 150 people on the street in this area and 30 per cent of those are women.
Knodel told the students that a shower is provided at the Champion Centre, operated by The Mustard Seed. Those who are homeless have an opportunity to take care of personal hygiene.
"Just because they are on the street does not mean they don't want to maintain their dignity," said Knodel as he expressed his thanks.
Knodel says the Mustard Seed plays a vital role in helping sustain people and give them hope when they're at their most vulnerable.
"We tell them and show them that they have value. We value them," said Knodel.
Applauding the students for the 12-days of giving, Knodel said the students are in effect sowing small mustard seeds that grow into flourishing trees. The initiative has also created an awareness in them of the needs of others.
The Mustard Seed's goal is to have a wellness centre where free medical care is provided to those who come through their doors. Knodel says recent data from the Mustard Seed in Calgary shows that the clients who use the wellness centre have a shorter stay in the shelter. Typically a shelter stay is 43 days but for those who use the wellness centre it drops to 13 days.
The Mustard Seed in Medicine Hat is still currently operating out of the Champion's Centre on North Railway Street. The former River Park Church on Allowance Avenue will become the headquarters after renovations take place. Knodel says they are currently getting quotes for the renovations and also fundraising the required $420,000 for a commercial kitchen.
"We are a long way off (from the target)," said Knodel.