Senior Gators girls basketball look to peak by provincials
Posted on December 27, 2019 by 40 Mile Commentator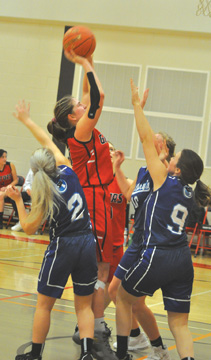 The Gators' Jessica Andreas battles through some St. Mary's defenders on Dec. 16.
By Justin Seward
Commentator/Courier
While the high school senior basketball season is a long one, the Senator Gershaw Gators senior girls basketball team hope is to be peaking by the time they host provincials in March.
"So far the girls have been doing (well). We've won seven out of 10 games so far," said Josh Babe, senior girls head coach.
Babe says the roster has five returning players and six players are new to the team.
"We're trying to implement the young and old girls together and the girls are progressing really well and I think it will be a good year. We've got good potential," said Babe.
The team tends to have more guards than posts, to have more a team that shoots the ball quick.
The guard sets up the teams' offence up the floor while the post is a player that hangs around the basket near the foul line.
"We're not as strong in the posts. We've got a couple of girls that are big in the post that are pretty strong," he said.
" But most of our games are with the running guards, we run more of a guard offence and work on the strengths that we have."
Babe says the older girls do a good job of instructing the younger girls coming up and where to be on the floor and helping them with skills in practice.
The team approach is taking it tournament-by-tournament and game-by-game to develop in preparation for the year-end event.
"We're always practicing and trying to improve for the last tournament. It's down the road but we're focusing on the games today," said Babe.
"The girls, it sounds like they're excited to host again, guaranteed to go to provincials, so that's kind of nice. But I think they'll compete well at the provincial tournament as well."
The goal is to get the players up to playing to their potential so the team can compete well in zones and provincials on home court.
The Gators sit only behind their rivals down the road in Foremost in the league standings.