A year in review: Bow Island/County of Forty Mile
Posted on December 31, 2019 by 40 Mile Commentator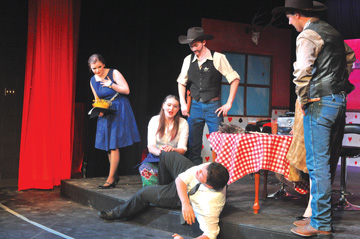 By Jeremy Appel
Alberta Newspaper Group
January
The year began on a positive note, with Alberta Health Services announcing a $1 million grant to HALO air ambulance.
The contribution was announced at a Jan. 4 press conference at Medicine Hat Regional Airport, the first time AHS had given a direct grant to HALO.
Its purpose was to offset some of the $2.6 million in costs associated with HALO's new twin-engine BK-117 helicopter, compared with just $850,000 for their original single-engine helicopter.
The grant wasn't renewed in October's provincial budget, so HALO has gone back to a fee-for-service model, where they invoice AHS for each trip they make and receive a partial reimbursement.
On Jan. 15, Bow Island's beloved Rolling Pin Bakery opened under new ownership.
Sisters Eva Loewen and Nella Wolfe took over the business from previous owner Erna Varekamp, who continued working with them for several weeks to ensure a smooth transition.
Loewen previously worked at the bakery years ago, while Wolfe has experience managing a Tim Hortons franchise, so both owners are familiar with the industry.
They've made some minor changes to the menu and brought in some new equipment, but intend on ensuring continuity in the bakery's offerings.
On Jan. 22, a former Bow Island Mountie was sentenced to two months in jail after being found guilty of sexual assault and breach of trust in late-2018.
Eliott Teed was convicted of feeling a woman's breasts during a traffic stop in February 2015.
He then wrote the victim a 24-hour driving suspension and left her in her vehicle with her keys, repeatedly returning to proposition her.
Crown prosecutor Euan Gilmour read a victim impact statement into the court record, where the victim said the assault lead to her withdrawing completely from her social life.
Defence lawyer Robb Beeman had a pre-sentencing report prepared for Teed, which outlined how his professional reputation had been damaged beyond repair.
February
The Bow Island and Burdett Chamber of Commerce was only able to elect a new vice president at its Feb. 6 annual general meeting.
Since nobody stepped forward for the presidency, Darci Nixdorf had to step in to fulfill both roles to the best of her abilities.
As a result of the leadership void, the Chamber announced the cancellation of its mid-April trade show, one of its major fundraisers for the year.
At a Feb. 13 council meeting, the County of Forty Mile passed the final readings of its cannabis bylaw.
The legislation prohibits people from smoking or vaping in any public places, work places, school buses and private for-hire vehicles, regardless of whether there's a 'no smoking' sign or not.
Those who violate the bylaw are liable for a fine ranging from $250-$10,000.
March 
On March 5, a Burdett potato farming family received the 2018 County of Forty Mile Farmer of The Year award.
Jos and Bea Langewag originally hail from the Netherlands, but moved to southern Alberta 19 years ago.
They use European equipment that allows them to decrease soil disturbances.
Although potatoes are their main crop, they also have canola, wheat and beans in rotation.
The Bow Island/Foremost Flyers midget 'C' hockey team took home gold from Whitecourt on March 24.
They played five games over four days, all against teams they had never faced previously.
After three round robin games, where they went 2-1, they beat first-seed Brooks 3-2 in the semi-finals.
The game that sealed their victory was a 6-4 win over Smokey Lake.
Blues at the Bow celebrated its 25th anniversary with the close of its 2018-2019 season on March 30.
The event featured performances from West Coast All Stars featuring Junior Watson and Juno Award-winning Harrison Kennedy.
The Bow Island Historical Society renovated the Bow Theatre in 1993, which has a maximum capacity of 240 and includes a balcony, three-tiered levels of seat and table sitting, a dance floor and state-of-the-art sound system.
April
Southlands Transportation's rural bus route pilot project kicked off April 15, providing a needed service to rural Albertans left behind by Greyhound.
"The Highway 3 Connector" stopped in 11 communities along the Highway 3 corridor, with two daily return trips each weekday from Redcliff to Lethbridge.
The route was Redcliff, Medicine Hat, Seven Persons, Bow Island, Burdett, Grassy Lake, Purple Springs, Taber, Barnwell, Coaldale and Lethbridge.
The April 16 provincial election saw Grant Hunter elected as the MLA for Taber-Warner in a landslide with 83.15 per cent of the vote.
NDP candidate Laura Ross-Giroux came in second with 13.69 per cent followed by the Alberta Party's Jason Beekman with 8.37 per cent.
The day before, 143 students at Senator Gershaw School participated in the Student Vote mock election.
At Gershaw, the UCP took 60.8 per cent of the vote, while the Alberta Party received 25.2 per cent, the NDP seven per cent and Liberals 5.6 per cent.
Across the riding, students vote 62.2 per cent UCP, 22.3 per cent Alberta Party, 9.3 per cent NDP and 6.2 per cent Liberal.
On April 23, HALO announced a new fundraising initiative involving donated farmland.
HALO was offered the proceeds from harvesting 160 acres of Hard Red Spring Wheat Variety on a quarter of the Kuizenga Farm.
Seeding began the day of the announcement and employees at Kuizenga Farms were responsible for upkeep.
On April 30, MLA Grant Hunter was appointed associate minister of red tape reduction in Premier Jason Kenney's cabinet.
The goal of the new ministry is to "reduce regulatory burden" by 33 per cent.
May
The Bow Island Running Track Walk-a-Thon occurred May 10, with 400 local students walking a total of 2,036 km over 5.090 laps.
Its purpose was to raise funds for the running track resurfacing project at Senator Gershaw School.
Materials for the Whitla Wind Farm began arriving by rail in the Village of Foremost at the end of May.
The first shipment included $325 million worth of building materials, consisting of 70 tower sections on a single train.
Mayor Lorne Buis said the increased activity generated by the shipment provided an economic boon for the community.
June
On June 3, the Community Foundation of Southeastern Alberta the Rural Community Fund of the County of Forty Mile.
The purpose of the fund is to streamline the grant application process for local charities, from recreation and entertainment to animals.
The rural fund operates under the CFSA's umbrella, with donations administered in the CFSA's Medicine Hat office and then transferred to its rural counterpart.
Bow Island Apple Drugs co-owner Curtis Gouw was sole local involved in the regional Business Retention Expansion Work Force and Development project launched on June 19.
The Invest Southeast Alberta-led project is intended to promote and identify barriers to business growth in the region.
Gouw said his goal in participating is to bring a rural business voice to the table.
He said it's not always easy for rural business owners to access government for collaboration, compared with urban business people.
July
About a year after Pepsico closed down the Highway 879 Spitz Plant, Ontario's G.S. Dunn Dry Mustard Millers were unveiled as its new owners in the July 16 edition of the Commentator.
Their dry milled mustard product is a bend of yellow, oriental and brown seeds, which can be broken down into mustard flour, ground mustard, cracked mustard seed, mustard bran, treated or untreated ole mustard seed, as well as deactivated mustard seed.
Hamilton-based G.S. Dunn president Jason Gould said the plant appealed to their company due to its 55,000 square feet of warehousing and processing space.
The product produced at the plant will be distributed throughout Alberta, British Columbia and the western U.S.
Also in mid-July, Foremost's Quade Hughson placed second at the National High School Rodeo Association finals in Wyoming.
Hughson received 145 points in his first appearance at the event, which included 150 bull riders from 43 U.S. states, five provinces, Mexico and Australia.
He nearly came in first, but was bucked off a bull that hadn't been bucked all week in the final Short Go round.
For his efforts, Hughson received a Reserve Champion Buckle, a $950 scholarship from the NHSRA, an additional $300 scholarship from Cinch Jeans and a $1,555 bull riding jackpot.
August
On Aug. 8, seven combines harvested around 20-25 bushels per acre of Hard Red Spring wheat variety for HALO on a quarter of the Kuizenga Farm.
Despite dryer-than-expected conditions, this project brought in about $21,000 for the air ambulance.
Allen Kuizenga of the eponymous farm said the purpose of the initiative was to help HALO with the costs associated with its new twin-engine helicopter, which increased its annual budget to $2.6 million.
He said had conditions been more moist, they could have harvested as much as three times the amount of bushels.
Representatives of Capital Power took dignitaries, including county and town councillors and the local MLA, on a tour of the Whitla Wind Farm facility on Aug. 15.
The tour took the visitors through two foundation digs — the first being a rebar frame containing 40 tons of material, while the second dig was a fully-poured turbine foundation with 53 tons of concrete.
Jerry Bellikka, Capital Power's director of government relations, told the Commentator that workers were assembling three to four turbines a day.
County of Forty Mile Reeve Steve Wikkerink said he was most impressed by the site's cleanliness.
September
On Sept. 13, Bev Rapson wrapped up her final year organizing the Friday Market at the Golden Age Centre after being at the helm seven years.
There were 11 markets in 2019, composed of 18 different paying vendors. The market also hosted the Bow Island Hospital Auxiliary, the Health Foundation and United Church free of charge.
The final market of the season also served as Customer Appreciation Day, with free coffee and donuts for attendees.
Senator Gershaw School hosted an Alberta Colleges Athletic Conference-level game for the first time on Sept. 17.
The Medicine Hat College Rattlers mens volleyball team faced off against the Lethbridge College Kodiaks for an exhibition game in the school's gymnasium.
October
The Evangelical Free Church boys and girls clubs hosted a bottle drive on Oct. 15 to raise funds for a Syrian refugee family that moved to Bow Island at the end of the year.
The a family of four — a mother and her three children — spent the past eight years in a Lebanese refugee camp.
Bringing them to southeast Alberta was the initiative of Shayla Hopkins, who started the Bow Island Refugee Committee in the summer.
A government sponsorship program will provide the family with basic living expenses for their first year in Canada, but the committee set a goal of raising $7,500 in start-up costs.
The Oct. 21 federal election saw the re-election of Medicine Hat-Cardston-Warner MP Glen Motz in a landslide, with 79.29 per cent of the vote.
His closest competitor, the NDP's Elizabeth Thomson, received 8.66 per cent, while Liberal Harris Kirshenbaum received 6.62 per cent, the People's Party's Andrew Nelson got 2.56 per cent and Green Shannon Hathorne got 2.23 per cent.
It was Motz's first time running in a general election, having won a 2016 byelection for the seat after the death of former MP Jim Hillyer.
The provincial budget was unveiled Oct. 24, which resulted in a cut to the Summer Temporary Employment Program but spared the local library.
The loss of STEP funding means Family and Community Support Services will no longer be able to hire two students to work for the Village of Foremost.
The County of Forty Mile used its STEP funds to hire five summer students, but it's now unclear if that will be able to continue.
The library received its normal $16,000 grant from the province on top of municipal funds.
This means the library will be able to stay open two evenings a week.
November
In early November, a PBS crew was at St. Michael's School to film a four-minute segment for the show Information Matrix that will air in the new year.
The segment will document the students' involvement with Edwin, Nelson Canada's digital learning ecosystem.
This is the second year Grade 7-9 students have used Edwin, which gives each student a 2-in-1 laptop that includes a rich rich library of multimedia content tied to provincial curricula.
Holy Spirit Catholic School Division superintendent Chris Smeaton was interviewed for the show, as well as nine students, a parent, St. Michael's principal Chris Sumner and two teachers.
From Nov. 8-17, the Forty Mile Rail Associated used the grand opening of its railyard to raise funds for HALO while touting the benefits of wind power.
Attendees were invited to sign a windmill blade, similar to those that had been arriving at the railyard for the Whitla Wind Farm.
The blade was then donated to the Etzikom Windmill Museum for display and preservation.