Bow Island Fire Department to host fundraiser
Posted on January 7, 2020 by 40 Mile Commentator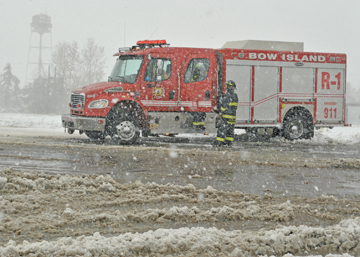 Commentator/ Courier File photo
By Justin Seward
Commentator/Courier
The Bow Island Fire Department in conjunction with the Holdeman Mennonite Church is hosting a fundraiser to help one of their own, Lance Penner and his wife Beth, cover the costs of their trip to Atlanta for her medical procedure which happened on Jan. 3.
Penner informed his fellow firefighters a month ago about the situation.
It's our department reaching out to help one of our firefighters," said Blaine O'Donnell, Bow Island deputy fire chief.
"It's a brotherhood of firefighters and that's what we believe in."
O'Donnell says it was fitting to do at the church because Penner is a Holdeman Mennonite and it made sense for both sides to partner in on the event.
"We anticipate it will be quite huge and we couldn't do it by ourselves," he said.
The fundraiser will be held on Jan. 14 starting at 6 p.m. at the Sun Country Christian School, located next to Centennial Park.
The fire department is looking for donations for the silent auction and they can be dropped off at the Town of Bow Island office or picked up by Jan. 10.
Tickets are $20 per person and $10 for kids 12 and under at the door for the silent auction and supper fundraiser.
If someone is interested in donating or wanting more information, you can contact O'Donnell at 403-878-6749.