SPCA hoping to find homes for two special shelter occupants
Posted on January 7, 2020 by 40 Mile Commentator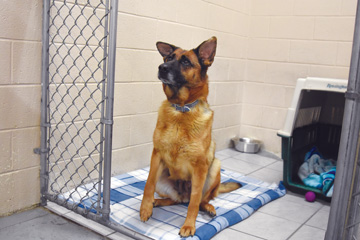 December 30 2019 NEWS PHOTO MO CRANKER Coco, an eight year old female German Shepard mix, is looking for a new home and is living at the SPCA.
By Mo Cranker
Alberta Newspaper Group
The Medicine Hat SPCA is hoping to find a couple special pets homes in the New Year.
It was a busy year at the shelter, especially with regard to cats, and the SPCA is hoping to find six-year-old domestic short haired Ozzy a home.
"He's a wonderful male who needs to be rehomed to a place where there's no other pets," said kennel assistant Joe Schafer. "He'd like a quiet home, doesn't get along with other cats and he hates loud noises.
"I know he has a rock star name but we are really stressing that he does not like loud noises at all."
Schafer says the cat is relaxed and affectionate and will make a great companion for someone.
Ozzy has been at the shelter since July.
The shelter doesn't have too many dogs under its roof right now, but is hoping to get Coco to a loving family.
Coco is an eight-year-old German Shepherd mix that is affectionate and quite obedient.
"She's gorgeous," said Schafer. "The thing is, she needs to be the only animal.
"She loves to carry around squeaky balls and will make a great pet for someone."
Schafer says the SPCA has had a large amount of cats going through the shelter this year and that the community has stepped up recently to help lighten the load a bit on the shelter.
The SPCA is open noon to 6 p.m. daily and its animals can be seen at http://www.medhatspca.ca