Willowbend Equestrian creating a family-friendly atmosphere
Posted on January 7, 2020 by 40 Mile Commentator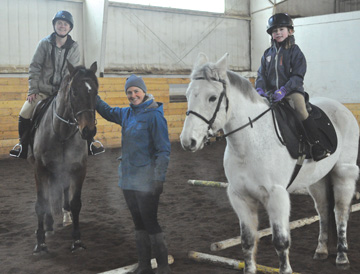 Commentator/Courier Photo by Justin Seward Amber Davidson (middle) taught Kaitlyn Jollymore (left) and horse Billy and Evvy Hutchison and horse blue on Friday at Willowbend Equestrian.
By Justin Seward
Commentator/Courier
Willowbend Equestrian was a concept that was brought to life in 2016 when Duane and Christine Ziegenhagel went in on a business venture with Aaron and Amber Davidson to purchase the Range Road 60 property and develop equine programs.
"It's always a dream for Amber, who does her own lessons out here to own her own barn and this property was up for sale and they just didn't think it would be feasible for one couple to own it on their own," said Duane.
"And decided it would be a great place to raise kids and its where it all started."
The equestrian facility offers all styles of riding and year-round boarding with both indoor and outdoor riding facilities available.
Riders in the lesson programs range from seven-year-olds to 40-year-old adults, who still take riding lessons  while competing and jumping in shows.
"(We) just always create a family-friendly environment here at the barn," he said.
"It's not a cliquey group or an elite group at all. It's open to all ages and everybody is learning together and growing together. It's kind of a big barn family that we have.
"All of our riders are willing to talk to each other and spend time with each other. They'll help each other out. If there is a young girl that can't get the bridle on, somebody will stop in and help them."
Duane says Amber taught at another barn and Willowbend gain new riders from there and from a few students who have moved in and out of town.
"Winter seems to get busier with having an indoor arena," he said.
"Lots of other acreage owners will bring their horses in so they have a place to ride over the winter. We growing a little bit but not full."
There are 36 horses on the property and the previous owners kept the horse count to around 20, he added.
He says for Willowbend to be a viable organization in Cypress County, they depend on their boarding clients.
"We have our lesson program here and we think that program brings clients to board where they can do everything at one facility," said Duane.
"I think we feel if another facility opened to board and had a lesson program that would be even more elite and better, people would probably move to that barn and it's kind of a bit of cycle in the horse industry."
Amber is the coach and riding instructor and also does a lot of the feeding and care for the horses.
The lessons are for a variety of levels but are mostly focused on english horse riding hunter jumper and western style.
"Some of riders go as far as being competitive," said Amber.
"They go to lots of shows in Lethbridge and Calgary and they do hunter jumper-type shows and courses."
She says what is important to her is developing a relationship with the horses, learning horse behaviour, rhythm and balance.
"They get a little more coordinated where they can learn to do X-Rails( the beginner height of the fences and moving up). (They're) starting here on the poles and working their way up to the X-Rails and jumping," she said.
"We want to them to learn the basics (of) saddling, bridling, connecting how a horse behaves, how to work with them at first and we kind of can continue up."
In terms of improvement, every individual and horse is a little bit different, she added.
"They're going to progress a little bit slower when they're a little bit younger and as they learn, depending on what they want to do and what they're working on, it's totally individual and it has to be with a bridle and horse," she said.
Lessons are Monday to Friday, with the week's end being a lighter lesson and the weekends are open so everyone has time to board.
More information can be found at http://www.willowbendequestrian.com.