County author releases kids agriculture book
Posted on January 14, 2020 by 40 Mile Commentator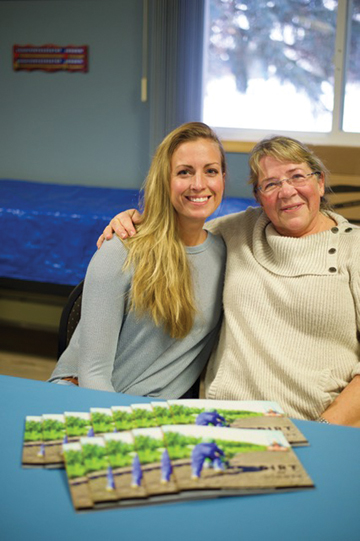 Ralaina Virostek and Conny Kappler released their book "Dirt to Dinner" in Rolling Hills this past weekend.
By Justin Seward
Commentator/Courier
A Cypress County author has published a non-fiction book for school-aged kids in Grades 2-6 that allows them to learn about agriculture.
Conny Kappler became an author three months ago and now her first book "Dirt to Dinner" was launched this past weekend in Rolling Hills where she currently resides."I'm a grandmother and I do a lot of reading to my grandkids on Facebook. When I was a parent I wanted to write a book and now it's like 20 years late. It's just time," she said.
"I've been doing a market garden and I sell my produce at the Medicine Hat farmer's market and I interact with a lot of people. I thought it'd be a good idea to just have a book on what I do and how I grow food and put it in a format that kids will hopefully enjoy reading."
Kappler, who grew up at the Kappler Dairies south of Medicine Hat, and her book partner Ralaina Virostek have a strong connection in agriculture and designed the non-fiction book to have two streams of readings.
"The main text flows with repetition to help learn new words about farming and the more in depth pages elaborate on different factors involved in agriculture for kids who like to learn facts," said Kappler .
"Most of the photography in the book is about my garden. We cover things like photosynthesis, irrigation, soil, insects (and) partnerships. As farmers we can't operate as an island. We do need people and partners to help us."
The three reasons she wrote the book included so students can see how rural is connected to urban, to encourage reading and teach kids about agriculture.
"The disconnect between urban and rural is getting bigger. Rural populations and small towns are decreasing while cities are getting bigger and at the same time our agricultural land base is getting smaller," said Kappler.
"We only have 1/32nd of the earth is suitable for farming. Both the rural and urban depend on each other."
"The second reason for the book is to encourage reading. In this time of technology, we spend more time on devices and less time reading. With this we're spending less time connecting to each other and when we read to or with our kids, grandkids, nieces and nephews, we're connecting to a child in a positive and educational way.
"With reading we can also learn about farming. Raising animals and growing food takes time and patience. There (are)  many factors involved; Soil, water, weather temperature nutrients and many different sciences. It takes hard work and it's rewarding."
She sits on the Cypress County Ag Service Board and asked if the county would purchase copies to distribute to local schools.
"This way we're connecting the agriculture service boards to urban and rural children," she said.
"They've agreed to do that. They're purchasing two books for every school in Medicine Hat, Redcliff and the smaller schools in Cypress County."
Her hope is to have another book launch in Medicine Hat in early February.
"Dirt to Dinner" is $18 and can be purchased by emailing Kappler at hello@ilovedirt.ca.