Dueling Pianos Extreme- JUST DO IT
Posted on January 21, 2020 by 40 Mile Commentator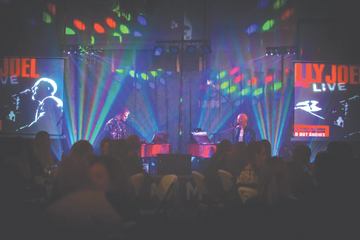 ROCKING ON THE KEYS: Jamie Mahn and Brian Burn of Burn 'N' Mahn's ÒDueling Pianos Extreme.Ó will be in playing their talents in Bow Island on Feb. 22.
By Stan Ashbee
Alberta Newspaper Group
Party like it's 2020! It's a live entertainment phenomenon taking over North America, from the bright lights of Las Vegas to southern Alberta locales. It's not Celine Dion people, it's Burn 'N' Mahn's "Dueling Pianos Extreme."
An unforgettable night of laughter, song and so much more. This must-attend event of the year and new decade is the ultimate fundraiser to help raise cash for the Bow Island Recreation Society. So, don your dueling pianos attire and get "duel-y." One night only! The dinner and show will be held at the Bow Island Multiplex Feb. 22 at 6 p.m.
Rock and roll, country, classic rock, 1980s, grunge, reggae, hip hop, blues, jazz and Canadian Rock – you name it, these guys can play it! It's sing-a-long, multiple instruments and sounds, lasers, a light show with video screens, a concert level sound and everything is live. It's two men who sound like 10.
Tina Mcilmoyl is the Town of Bow Island's facilities co-ordinator and is the society's secretary. Bow Island Rec, Mcilmoyl noted, is a non-profit society, which also organizes an annual slowpitch tournament fundraiser. "We raise funds for rec. So any of the facilities or parks. It's what our goal is."
In the past, Mcilmoyl saw a dueling pianos-type show similar to the event being held in Bow Island in Vegas, the city that never sleeps. "We were trying to think of something fun that has never been to Bow Island. It kind of just popped up there could be a possibility we do dueling pianos."
"We looked into it and found these guys," she added. Funds raised will go towards the arena, ball diamonds, pool or wherever it's needed and rec-related. "We are a fairly new society. We're just trying to build up our funds. We haven't allocated any of our money yet to where it's going. But it will go towards parks and recreation. That's what it was designed for."
Simply put, she just liked the interaction during the Vegas dueling pianos show. "It was a fun night and something different," Mcilmoyl said. "I'm hoping it will be a really fun night for the town."
Rumour has it, Mcilmoyl, there's a couple of musicians in Bow Island that have actually played with one of the guys in the dynamic dueling duo.
Sylvan Laker and multi-faceted performer Jamie Mahn is one of the fellas from Burn 'N' Mahn.
"We've taken the basic dueling pianos concept, which would be two guys and two pianos just sitting and playing piano – that's kind of the raw form of it – we've added a lot of production and different things to it. We have multiple instruments. We have video screens that we have comedy on and switching back and forth between live shots, a huge light show and lasers and foggers. We've kind of given it like a Pink Floyd production level and the sound system is really big and we've added a lot of sounds and instruments. So, we're able to play music in its original form with drums, bass, guitars – everything through the piano," Mahn explained. "Then, we have sax, trumpet and accordion I play, as well."
Mahn noted the duo takes requests from the audience. "We put out paper and pencils and pretty much everything we play is by request."
It's a very interactive show with a sing-a-long back and forth with the audience and the show is different every time, Mahn said. "It's a mixture of comedy and music."
Shows are based on who is there, audience-wise too. "Requests are coming up and what kind of level of comedy and humour that is going to go on in the room. We sort of just feel our way through it – minute-by-minute or even second-by-second you're making adjustments," Mahn said. "It's a very improvised show and on the fly."
Brian Burn, Mahn said, is his dueling piano partner in crime. "We've both been playing music our whole life. Brian's been on the road in Canada backing up some bigger country artists over the years. He has a lot of road experience and he's won a couple of awards."
Mahn's musical background includes stints in dueling piano bars in the U.S., on cruise ships and overseas. "The two of us came together in 2013 by fluke. We got put on a show together and we kept each other's contact and we didn't talk for a year or so and then I had a bunch of jobs I was planning over a Christmas season. I had a player that sort of fell through, so I called up Brian and said 'do you want to do this run of shows with me?' And it worked out really well, so we kept going," Mahn said, adding the two pianists have done close to 675 shows together.
It's quite a bit of shows together, Mahn said, especially when you consider pretty much every one of the shows has been staged in a different location. "Every time we have to drive there and set up a massive amount of equipment for two guys. We've done about half a million kilometres over the last seven years driving."
For me, Mahn noted, it's the excitement of the improvised show that was the initial allure of a dueling pianos production.
"My dad was in a rock and roll band, so I grew up around 1950s and 1960s music," he said.
"Between Brian and I, we have a couple thousand songs. A little bit from every genre."
Tickets for the fundraiser are $50 and tickets can be purchased online through Eventbrite.com – Bow Island Dueling Pianos.