Flyers win Curtis Kerner Peewee Memorial Tournament
Posted on January 21, 2020 by 40 Mile Commentator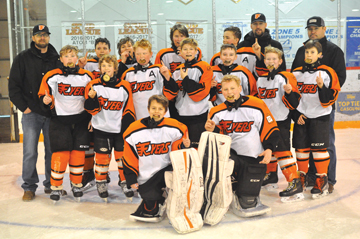 Commentator/Courier Photos by Justin Seward The Foremost Flyers peewee team won the 32nd annual Curtis Kerner Memorial Peewewe Tournament in Bow Island.
By Justin Seward
Commentator/Courier
The Foremost/Bow Island Flyers peewee hockey team breezed through their competition, going undefeated, on route to winning the 32nd annual Curtis Kerner Peewee Memorial Tournament for the third time in the past five years in Bow Island.
The orange and black's closest game was in the finals where the boys beat the Magrath Chiefs 10-4 on Sunday.
"I thought the kids played really well," said Jon Hollingsworth, Flyers head coach.
"We're really trying to get this tournament up and going again. It's tough to get teams into the small towns to play in the tournaments. We had a few people that went the extra mile to get the word out there that we're having this tournament in memory of Curtis Kerner. It's really nice to have the home team come out with a win."
He says it was special for the host team to win because there are players on the team who have dads who were coached by Kerner.
"It hits home to them. It's always nice to come out on top of your home tournament," said Hollingsworth.
The team played well together for the first time in a long time in the tournament, he added.
"Some of our younger kids are first years, confidence building, stuff like that to carry us on through the rest of the season and hopefully into a provincial run," said Hollingsworth.
Kerner was a Bow Island man who was very involved in the minor hockey system both as a coach and player. He lost his life in a tragic trucking accident 32 years ago and his family wanted to remember him through things he loved with one of those being hockey.