Foremost School's exterior maintenance to be tackled within three summers
Posted on January 21, 2020 by 40 Mile Commentator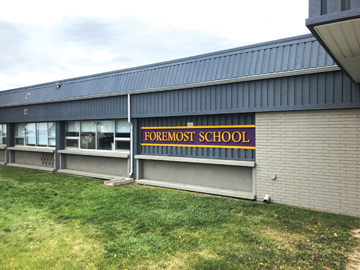 By Justin Seward
Commentator/Courier
Foremost School began the process last summer of exterior renovations to parts of the building and will continue through the next couple summers.
Phase 1 was completed last summer and involved removing and repairing any structural concrete deficiencies on the senior high school wing.
"We reclad it and put some medal around the roof to keep people from getting on and sprayed everything with cork to seal it in ," said Darrel Drefs, Prairie Rose School Division's director of maintenance operations.
The first phase finished on time and on budget, he added.
"Everything I've heard is positive and the school looks really good," he said.
"The new colours look really good. Everybody seems happy with it, the spray cork held up so far. We haven't used it before but I think it's a pretty good product and we're hoping it'll give us a pile more years ," he said.
Phase 2 will commence this coming summer and will involve removing all the stucco on the small gym which has asbestos and needs to be invaded to fix all the structural cracks and sealing the cork.
Phase 3 will commence in Summer 2021 where stucco will be removed from the elementary and junior high wings where the asbestos will be removed and finishing the structural maintenance and cladding the walls with spray cork.
"Two reasons is the time frame. It's about all we can handle in the two months when the students are away," he said of doing the project in phases.
"The asbestos invadement, we don't really want to be when there is kids around. Second is cost. It's something we couldn't afford all in one shot."
Drefs says the project is necessary because there were concrete pieces falling out and just things over time shifting and cracking.
"Water gets in there and it's starting break apart the concrete and structural, and the same with the stucco with a little bit of holes in it," he said.
"It doesn't leave a totally closed building envelope, which left unattended can cause other problems inside the building."
Drefs says this the biggest project done to school in a awhile, but maintenance has been updating the building mechanical heating plants along the way and some flooring.
"As you drive up to the school, it just looks way better and things look brand new and clean," he said.
Maintenance report
Drefs presented a maintenance report to PRSD school board trustees on Jan. 14. He says in 2018-2019 school year budget the department estimated there was an $82,000 deficit and actuals came in at a $34,000 deficit.
He highlighted that what contributed to being under budget was selling old mowers and purchasing new ones, staff retiring, a staff member leaving and the maintenance crew doing $60,000 of IMR (Infrastructure Maintenance and Renewal) projects in house.
Drefs says going into this year's budget, it has been pretty similar to the past years budget other then the change in insurance, which was not anticipated and is coming in at over $971,000 this year compared to $235, 899 last year for maintenance.
Future projects will be getting an air conditioner installed in Parkside School.
"We're looking to spend a sizable chunk of our money to get air conditioning in the classroom (s)," he said.
"We've trying to work on that and getting it out to tender here hopefully the middle of next month so that we can get a good jump on it."
Phase 2 of the Foremost School exterior will commence this summer.
Drefs says the Eagle Butte High School Modernization is "all in all going very well, very few setbacks." The project is expected to be completed by March with seasonal deficiencies with the septic field and outdoor painting.
Additional funding was applied for outdoor parking pedestals, interior painting and flooring that was not touched in the project and was granted, he said.
Those projects won't be getting done until the summer time.