Irvine School teacher receives Lt. Governor award
Posted on January 21, 2020 by 40 Mile Commentator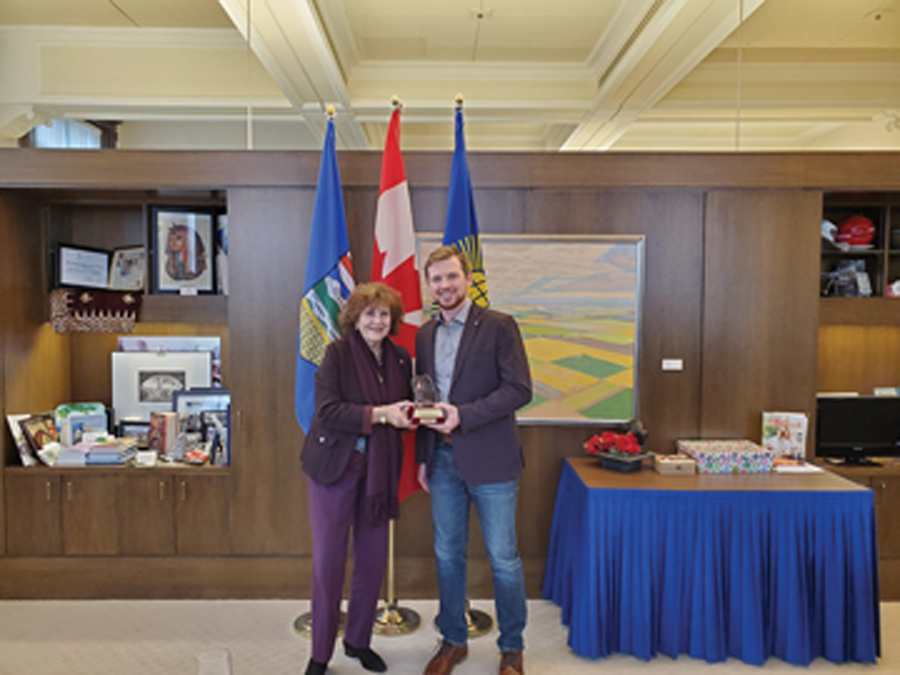 By Justin Seward
Commentator/Courier
It is not often a first year teacher rakes in a prestigious award.
But for Irvine School English Language Arts teacher Logyn Jacksteit, his passion for Social Studies earned him the 2019 Lt. Governor of Alberta Education Student Social Studies Award through an essay contest he entered last spring during his studies at Medicine Hat College.
"It was really cool just meeting her (Lt. Governor of Alberta Lois Mitchell)," said Jacksteit, who received his award in Calgary on Jan. 9 at the McDougall Centre.
"It actually took awhile to nail down a time to go see her because she is such a busy lady. But to go to Calgary and meet her and bring my family for them to witness me getting the award from her, it was probably an opportunity of a lifetime and pretty special to me."
The award was created in 2017 to recognize students in their final year of a Bachelor of Education Degree in Alberta and display the academic aptitude and a passion to lead their students in a lifelong discovery of history and heritage.
Jacksteit says the process was opened to anybody in their final year of Education.
"Rob Lennard, one of the Alberta historians there, he came to our school on behalf of the Honourable Lt. Governor Lois Mitchell and brought this contest forward and you have to submit by essay," he said.
"Then they select three finalists that compete for the prize."
He submitted his essay last February and the finalists competed in a competition at the end of April and he found out shortly after the event he won.
He says the competition allowed him to know where he was at with his history and he had to teach his knowledge to a handful of experts on a secret panel.
"It's kind of a way of testing out against others about where I'm at and how I am as a teacher and how I deliver lessons," he said.
"They gave you a sheet of 200 people that have historical ties to Alberta and you had to teach a lesson based on Alberta curriculum in front of these people."
History is a part of the context in his classroom.
"I love history," he said.
"Even right now teaching at Irvine ,lots of my stuff maybe doesn't necessarily follow Alberta cirrciulum or Alberta history but I love to incorporate cool things that a big part of who we are as a world and a society and incorporate those into my English lessons."
Jacksteit also received a certificate from the Governor for his contributions to the new Alberta Social Studies TV game show.
He says there are 21 episodes filmed and each episode might pertain to music history in Alberta and another one might be sports history or aboriginal history.
"I do recall when I made my questions and did make some about sports and some about politics and some abut aboriginal history. My questions will be scattered across several episodes," he said.
There were five Medicine Hat College students that made questions for the show.