Byam fitting in with Cougars
Posted on February 4, 2020 by 40 Mile Commentator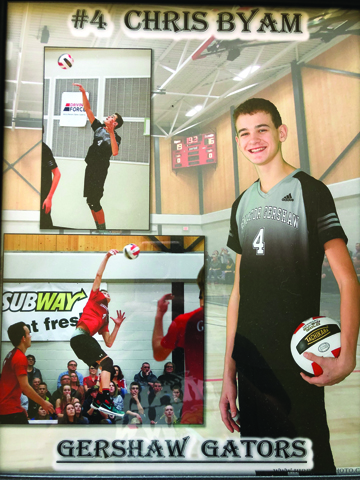 Chris Byam
By Justin Seward
Commentator/Courier
It is not often a rookie university volleyball player cracks the starting line-up in their first year.
But for Bow Island's Chris Byam that was not the case as he was in the starting line up in his first semester with the Mount Royal University Cougars men's volleyball team.
"Definitely a big accomplishment for me," said Byam.
"Everybody works towards that position. It was definitely a huge accomplishment for me to work towards that and hopefully maintain throughout the season."'
The former Senator Gershaw stalwart says the biggest adjustment for him from high school to university has been the schedule change with practicing every day, working out and schooling and balance his time properly.
"It was definitely a big adjustment at the start like just getting in the different swing of university and university sport," said Byam.
"But once I got into it, it was really enjoyable and really just having lots of fun with the guys."
Byam admits through the first few games it was  hit-and-miss with jitters, but once he got through that stage you settle in pretty well and play volleyball.
"But like just going from a smaller town volleyball set up to this, is definitely a huge adjustment like a bunch of big, physical guys every day, but you learn to just adjust to it and it becomes second nature I guess," said Byam.
He has been concentrating on becoming a more offensive server, defensive work and passing.
The towering outside hitter started the second semester on the shelf with a back injury, but was expected to return two weeks ago.
The Cougars are on the cusp of a playoff spot being ninth place and eight teams get in to the postseason.
"We've got a good run coming up at the end playing all teams that are in the middle of the pack. It'll be a busy second semester, everybody is pushing for that same goal to go for playoffs,"'said Byam.