Chainsaw artist becoming popular on local stage
Posted on February 4, 2020 by 40 Mile Commentator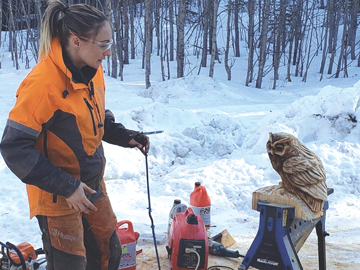 Photo Submitted by Elaine Ziegenhagel Marina Cole carves an owl during the 2020 Elkwater Winter Festival on Feb. 1.
By Mo Cranker
Alberta Newspaper Group
There was a point in Marina Cole's life where she had never picked up a chainsaw.
Then, four years ago, she joined a wood working club in Medicine Hat, which turned to a newfound passion for the Irvine-area resident.
Now, just about everyone knows Cole's artwork.
The chainsaw artist will have her booth set up at the annual Elkwater Winter Festival — she says she loves going to community events.
"They're a lot of fun," she said. "I'll have a demo going and I might have some of my other pieces there.
"If people have questions when I'm at an event they can just wave me down — I'm happy to talk."
Cole was inspired to start her career after seeing an intricate wood carving of a dragon at a taekwondo class. Since then she has been mastering her skills with a chainsaw — creating art in the Hat, as well as the areas around it.
"I went from carving little faces with a chisel to working with a chainsaw — I was lucky to have someone teach me how to use it safely," she said. "I had not ever grabbed a chainsaw in my life."
She says she enjoys working on large-scale pieces.
"You can do bigger pieces at a faster speed," she said. "The chainsaw is a lot of fun."
Cole has made News headlines recently with her work at Kiwanis Central Park in the Hat, as well as doing a memorial piece for fallen firefighter James Hargrave.
"Making something for people is special," she said. "It's amazing to create something that people can have forever."
Cole is working to open up a workshop in Irvine that will house her work, as well as a number of other artists' work.
"It'll be right in the town of Irvine," she said. "I'm hoping for an indoor gallery and room for a workspace.
"Maybe one day we can add an outdoor gallery, too."