Alyssa and Sugar attracting attention for HALO
Posted on February 11, 2020 by 40 Mile Commentator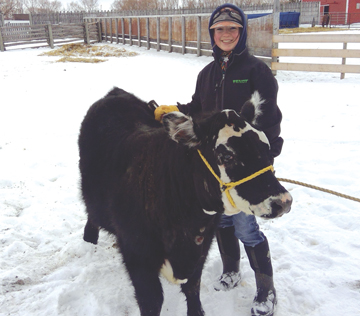 By Samantha Johnson
Commentator/Courier Freelancer
Alyssa Zieffle, 15, who lives about 25 kilomteres from Walsh has been working on halter training her latest calf, Sugar, since early November.
What makes Sugar special, is she is going to be sold off as a bred heifer in December 2020 and all proceeds will go to HALO.
"I'm not raising Sugar with the 4-H program but as part of a community project to support HALO," said Alyssa.
"The whole idea started with a discussion around wanting to do something for HALO and the idea grew from there."
"Hargrave Ranching wanted to donate an animal," she continued, "and we thought if everyone could pitch in, they would be recognized for their contribution."
Initially, the project started with Hargrave Ranch, the Zieffle family – dad Jack, mom Sheri and older sister Danae – and Spring Creek Colony, who offered to artificially inseminate Sugar.
Dad, Jack, added, "we never expected it to bring so much attention, but when it was posted on the HALO website, others became interested and wanted to be involved as well. It has been a good awareness project because those who don't have hay or other supplies to offer have donated money to HALO. I've used HALO numerous times."
Jack is the volunteer fire chief with the Walsh Fire Department.
"It takes a community to keep HALO in the air and Sugar has become a community project," said Sheri.
Thus far, David Jans and the Gill Family Farm have both donated a bale of hay. Co-op is donating salt and minerals along with show supplies and Shur-Gain out of Dunmore have donated a feed ration. Rylan Stafford has been helping with training and has donated his time for clipping Sugar and will be available for future clippings as well.
Sugar will go to Spring Creek Colony in July to be inseminated and then back to Alyssa for more training. If all goes to plan, Sugar will likely be auctioned off in December when she is pregnant, due to give birth in April or May 2021. Auction details have not yet been confirmed.
Raising and caring for animals has been a lifelong passion for Alyssa. "I did a year of 4-H when I was 10-years-old and might do it again next year." Aside from that, she has another cow, Buddy, she rescued a few years ago who still lives on site, horses and a variety of other animals.
Sugar was about six months old when Alyssa first started training her. "When Sugar first arrived, she would take off as soon as anyone came into view. Walking out there daily and bringing her into the chute to groom and pet her has helped. It's all about getting her used to people being around and tolerating human contact," explained Alyssa.
Sugar is still a little wild and has not been the easiest calf for Alyssa to halter train. The past week has been the first time she has managed to get the halter on Sugar without using the chute. Even with the help of her older sister, Danae, Sugar dragged them around the corral this morning before Dad showed up to give a hand.
Overall, Alyssa and her family feel it is worth the effort and hope it will become an annual thing, with all proceeds going to support HALO.