Higher Ground Christian School receive first playground, look to attract more students
Posted on February 18, 2020 by 40 Mile Commentator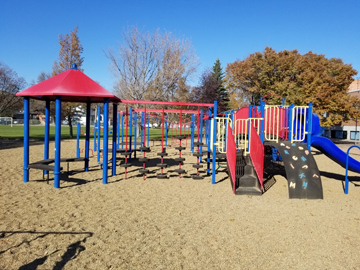 Photo submitted by Catherine Rosengren Higher Ground Christian School's new playground.
By Justin Seward
Commentator/Courier
Veinerville's Higher Ground Christian School has a class population of 15-40 students every year, a number that fluctuates year in and year out.
The K-to-9 school has seven to eight students per classroom, and according to principal Catherine Rosengren, the kids are getting a "really good education as one-on-one time is very high."
Some of the more exciting news lately to come out of the school has been the recent addition of the new playground which was taken from the now-closed Riverside School in Medicine Hat.
"We've never had a proper playground," she said.
"Five years ago when we moved here, they had a wooden structure that was very deteriorated. Like splinter city and kind of unsafe. We tore it down the next year. We're able to fundraise enough for a swing set so that's all we've had is four swings in our yard and we've had to walk to the park."
The Optimist Club in Medicine Hat changed the school's image last year when now past president Teddy Tokamp raised $5,000 towards a playground.
"It was always on his heart to find us one and he always keeps his eyes open and works with other schools and non-profit things for kids. He heard the school on Riverside was bought up by Covenant Care and they wanted to get rid of the playground and put grass in."
The school bought the playground off of Covenant Care for $1.
Tokamp's brother Bobby worked for Ronco and donated the use of cranes to get the structure to Veinerville back in October.
"We were able to put our first piece in October before (the)ground froze," she said.
The rest of the playground will be completed in the spring.
"For us it's a miracle. It's something we couldn't have ever imagined, it's a dream come true," she said.
The 42-year-old institution is a part of 10 schools in the Alberta Conference of the Seventh-Day Adventist Church School Division which is a part of a global school system worldwide.
Students come from the Medicine Hat Seventh-Day Adventist Church as well as Saamis Immigration where kids have come to the school without speaking English and learn in the small classroom environment with three teachers.
"We advertise anyone is welcome," she said.
"A few years ago one of the Christian schools in town closed down and (we) had a bunch from there come to our school. But they've all kind of gone off because they've gone off over Grade 9."
As a result of just 15 students this year, starting next year the school will offer free tuition (currently $50 per month this year) in order to make the school available to more kids, she added."We really want to reach as many kids as possible," she said.
Students come from all over and all the government basic curriculum is taught by two teachers as well as a Bible class.
"We incorporate Christian music and then faith-based learning throughout the curriculum that we're given, we add faith-based perspective," said Rosengren.
More information can be found at http://www.highergroundchristianschool.ca