I.F. Cox students present Exhibition project
Posted on February 18, 2020 by 40 Mile Commentator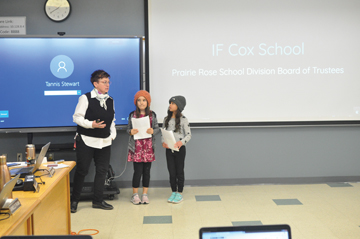 By Justin Seward
Commentator/Courier
Redcliff's Grade 2D I.F. Cox School students Tala Taefu and Koda Bear and principal Catherin Usher stopped by Prairie Rose School Division's board meeting on Feb. 11 to discuss the class' project for the upcoming Exhibition of Learning next month.
"It's a celebration of the academic piece that happens at our school," said Usher.
"The Exhibition is to promote high quality work for high authentic audiences so we know that if we can give our students an authentic audience, they will up their game. They will produce high quality work and that's exactly what we did."
Usher says while the school did not start the projects as early as last year, the process takes time and there are many iterations that happen for the final product.
"They have to stand with their project and they have to explain to all the visitors (what) they're learning to them," said Usher.
"Sometimes they did it in groups, some students did as individuals. There (were) no strict guidelines around that."
The projects also revolve around equity and "this is not just high achievers in the school," she explained, "that's not what the Exhibition is about. This is about engaging all our students in high quality and deeper learning."
Usher says Bear and Taefu showed how the process can be organic and that driving question and the students are coming with it.
Sixteen Grade 2D students have been working how to stop plastics from getting in the ocean through recycle, reuse and reduce.
Through their research,the group found out that marine animals are being harmed and even killed from human uses of plastics.
As the students conducted more research there was more bad news discovered.
Their project revealed Canada ships their garbage overseas and to the Great Pacific garbage patch which is piles of marine debris particles in the north central Pacific.
There was also proof that two companies were burning or taking plastic to the landfill.
The class split up into three groups of reduce, reuse and recycle.
Reduce is one group looking at how many plastic utensils are being used daily and come up with other uses of so much single use plastic
The reuse group is finding several ways to reuse as much plastic as possible and making products out of used plastic to sell at the Exhibition.
Recycle makes up the final group who learn about SPI (plastic identification) codes.
Usher said the project had " a visceral impact on these two." "They have a really well developed sense of empathy for our planet, environment and all living things."
The school's vice principal is the one person who got the whole idea started for the project.
"Mrs. (Linda) Asham was teaching you guys about liquids and water. Then she showed you this video and then you did a little bit of research and then something really disappointing happen and it had to do with something to do with Redcliff."
The students learned the Redcliff-Cypress Landfill has been taking Calgary's waste and then some of the local plastics and garbage are shipped to Malaysia.
"It was definitely working with all the plastic and seeing thousands of those bottles are getting thrown in the ocean," said Bear.
"The seal you saw with the plastic band around it and lots of zip ties are definitely not good for animals."
Taefu said "It's the living things that actually make stuff like these plastic bags and we use them and we're like 'oh we can't use this,' and we throw it out and it goes anywhere around the world."
This project is one of many that will be on display from every grade level at the Exhibition of Learning on March 17 from 3:30- 6 p.m. at the school.