Wright signs with Rattlers
Posted on February 25, 2020 by 40 Mile Commentator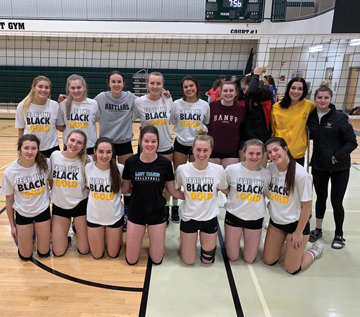 GETTING USED TO HER FUTURE TEAMMATES: Montana Wright (middle front) practised with the Rattlers recently with her MHVC club team. Photo Submitted by Montana Wright Rattlers women's team while with her SEAVC team recently.
By Justin Seward
Commentator/Courier
Eagle Butte High School Talons senior girls' volleyball player Montana Wright is staying close to home as a student-athlete next season.
The news of the Grade 12 player signing with the Medicine Hat College Rattlers women's volleyball program was released last week along with the five other signings for the team beginning this fall.
"I planned on staying home anyways," said Wright.
"That was my first go-to what I wanted to do. You know save cost and be around my family, who always supports me in sports and being given that opportunity to play here was perfect for me I think."
Wright says what intrigued her the most about the Rattlers' program besides staying home was the opportunity to practice with the team a couple of times.
"The coaching staff and all the girls there, everyone was very welcoming and it was an atmosphere I really enjoyed," she said.
The difference for her between the senior high school and the ACAC (Alberta Colleges Athletic Conference) will be " just the level of intensity and you've got to be more mentally developed in your focus."
She is also a member of the MHVC (Medicine Hat Volleyball Club) and her plan in preparation for her college rookie season is to practice her skills and become the best player she can be.
The six-foot-one middle blocker credits much of her progress in volleyball to her coaches and teammates.
"Just all the experience I got though the three years as a Talon were amazing and I think really prepared me for the future," said Wright.
Rattlers coach Kim Stonehouse attended some of Wright's high school games in the city as well as club practices and the relationship that was built, helped Wright in becoming a Rattler.
"I already knew I wanted her on my team," said Stonehouse.
"But seeing her and seeing how coachable she was and how she was around her teammates is a really important thing I look for in my recruits. Not that I know it already but that solidified it for me."
Stonehouse says when the program gets a high caliber local athlete in Wright, she is confident that she will be a part of the legacy building the team is looking for.
"I think it's great for them to play in front of their hometown and in front of their family and friends. I think that's a great thing for those local recruits that end up at the college," said Stonehouse.
The Rattlers already have experienced middle blockers on the roster and Stonehouse anticipates Wright will have more of a net presence with her height.
"She's going to have some time to learn and pick up the speed of the game. It's a lot different than the speed that they're going to be playing at the high school and club level right now," she said.
"I'm really excited for her because she will have that year to develop. That's not always the case at the college level."
Wright will be enrolled in the university transfer course for a Bachelor of Science.
*NOTE- This story has been updated to say Wright is a member of the Medicine Hat Volleyball Club and not South East Alberta Volleyball Club